Be the leader in TV shopping
Jason Kong from GHS Speaks at Positioning China Summit
On May 12, 2017. The 3rd Positioning China Summit and Ries Categoring Strategy 10th Anniversary Forum was held in Shanghai. Al Ries, a legendary marketing master and the father of the positioning theory, and Laura Ries, the successor of the theory, were present at the scene to comprehensively display ten years of consulting achievements of the positioning theory for the first time. GHS president Jason Kong was also invited as the only guest speaker from China's TV shopping industry to share his practical experience in the positioning theory with Al Ries and his daughter Laura Ries, as well as Zhang Yun, general manager of Ries China, and entrepreneurs from domestic first-class enterprises such as Great Wall Motor, Robam and Jinmailang.
How do retail platform brands achieve differentiation innovation? GHS insists on category focus
"Many years ago I wrote a book titled Profit Models of Media which discusses three major profit models of media: advertising profit model, content profit model and channel profit model. Of them, channel profit model is a TV shopping-based media retail form which fully integrates media, vehicle and sales, influences cognition, plays the guiding role, and leads to sales," said Jason Kong in the explanation of TV shopping retail form. "That is, at the beginning of a GHS program, you don't have the idea of buying a juicer, and it is the recommendations of the shopping experts that trigger your desire to buy it. Vehicle plus media and shelf plus sales generate real-time purchase, which gives birth to the strong vitality of TV shopping-based media retail. It is a model that creates consumer demands." Now, in addition to cable TV shopping channels covering the whole country, GHS is also carrying out retail business through mobile video APP, smart TV screen, etc.
In fact, most consumers are attracted by the purple logo of GHS before having a deep understanding of the brand, and this is one of its visual hammers that make GHS stand out of many TV shopping enterprises. Jason Kong said that after years of insistence, the vast majority of consumers on the platform had formed the cognition of "GHS equals to purple, and purple is GHS". In 2017, in line with the evolution trend from TV shopping to video shopping and the internationalization strategy of going overseas, GHS launched a new brand – 聚鲨商城(also could be called GHS), and vigorously promoted the new visual hammer "shark". "Because of this purple shark, consumers are more impressed with us," said him.
Why do we select shark? Jason Kong said that, "Shark is not only the brand image of our company, but also our spiritual totem. What is the spirit of shark? Firstly, it has cartilage all over its body, so it has strong environmental adaptability and overall coordination capability; secondly, it changes 30,000 teeth in its lifetime, thus guaranteeing strong core competitiveness; thirdly, it doesn't have a swim bladder, so it has to keep swimming in its lifetime to avoid sinking. What we want to learn are precisely the capability of keeping adapting to the environment, the capability of keeping learning to maintain the core competitiveness, and the spirit of keeping exploring. Only by doing so can an excellent enterprise keep developing.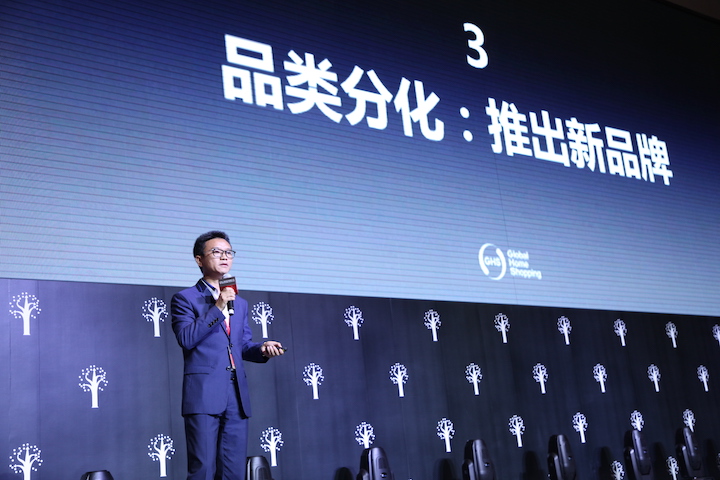 GHS president Jason Kong makes a keynote speech titled How to Achieve Success by Continuously Applying the Positioning Theory
What are the experience and benefits of applying the positioning theory? Jason Kong shared his practical experience.
The reason why Jason Kong chose TV shopping as his business direction and has been insisting on it is that he has been confident in the TV shopping industry. At the forum "Witness the Power of Category", Jason Kong said that television is still the No.1 media in the world, and the problem of Chinese television lies in the institution behind traditional Chinese media rather than media form. Therefore, he has always had a high degree of confidence in TV media forms and TV shopping industry. "GHS is one of the TV shopping channels with the highest coverage in China, and our audience rating even exceeds some traditional satellite channels in many provinces and cities. This platform has a very large market potential," said Jason Kong at the forum.
It is reported that in the field of TV shopping, the United States, Japan, South Korea, Taiwan and other countries and regions all have an enterprise mainly doing TV shopping business among the top five enterprises in the B2C industry, which means that China's TV shopping industry has a great room for development. According to Jason Kong, GHS will keep promoting TV shopping, and expand Central Asia, Africa, Southeast Asia and other overseas markets along the One Belt and One Road, with the goal of becoming stronger and bigger. "China's TV shopping industry was controversial in the history. We hope that through our own efforts, we can change people's traditional impression of TV shopping. GHS is not only initiating but also restructuring an industry, and we hope to be a leader in the industry," said Jason Kong.
"All our goods are purchased throughout the world by buyers, and they are selected from thousands or even tens of thousands of goods via comparison," explained Jason Kong. Meanwhile, the huge sales of individual products also lead to a strong bargaining power. The logic behind the concept of "home" is adhering to the family culture. Chinese people attach importance to family, and the main culture of television is living room culture. For GHS, the main consumer groups pursue high quality of life, so GHS not only provides products meeting the needs of consumers, but also creates a family culture and leads a way of life.
"Given the surplus consumer products in China, what we lack are not products, but products that upgrade the consumption," emphasized Jason Kong. Since determining the position of "Global Home Supplies Sale Mall", GHS has been making strategic adjustment according to the market environment and its own degree of development. Through positioning and focusing, GHS has achieved rapid development, and become the enterprise with the highest growth rate in China's TV shopping industry.
As an entrepreneur who has achieved success by continuously applying the positioning theory, GHS president Jason Kong believed that, "Positioning is not only a business issue, but also an entrepreneurial philosophy, and even involves view of life and lifestyle." It is said that, as a global brand theory experiencing decades of vicissitudes, the positioning theory has served more than 75% of the world's Fortune Global 500 companies, and become the strategic concept with the greatest influence on Chinese enterprises. At present, recommended by Ries China, a number of domestic enterprises including GHS, Great Wall Motor, Robam and Jinmailang have implemented the category focus strategy and achieved significant growth.