Jason Kong, Chairman of GHS: From Non-mainstream to Mainstream, China's Media Retail Industry's Road to Rise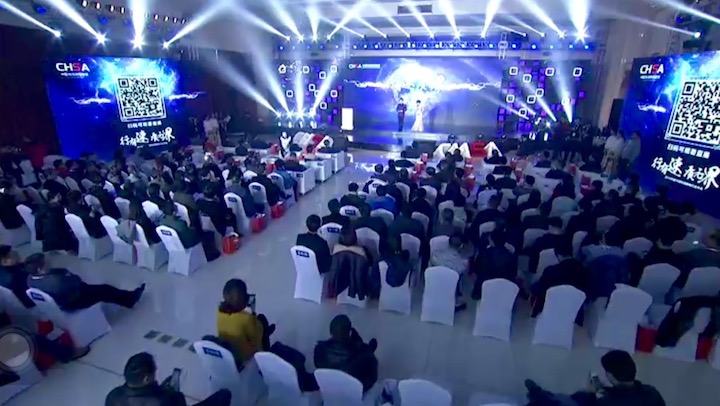 Beijing Feb 17, 2017, the 2016 annual conference of China's TV shopping industry themed "Quick Action, Eternal Pursuit of Quality" was held in Beijing and staff from more than 30 domestic TV shopping channels, various TV shopping partners and experts attended the ceremony. Mr. Jason Kong, chairman of GHS, delivered a speech titled "From Non-mainstream to Mainstream, China's Media Retail Industry's Road to Rise" and gave his own views on several issues with respect to industrial development.
The following contents are summarized according to the speech.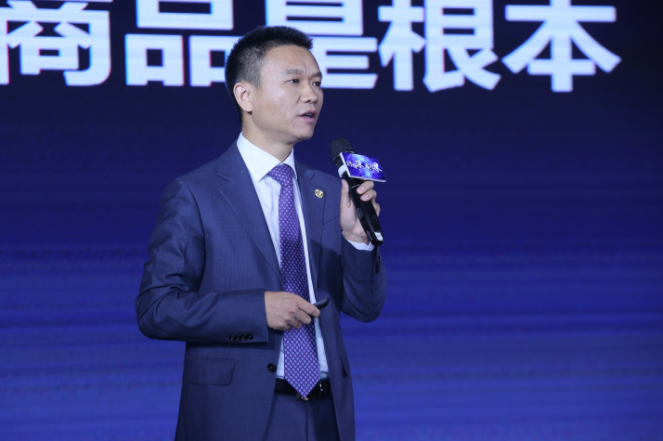 Jason Kong, the chairman of GHS, is delivering a speech titled "From Non-mainstream to Mainstream: China's Media Retail Industry's Road to Rise"
I was accidentally engaged in TV shopping in 1998 when I was in charge of advertisement operation and management and contacted with some TV shopping channels. In 2007, I was in charge of the application for Guizhou Jiayou TV shopping channel. In 2013, I established Global Home Shopping. In nearly two decades, I've accumulated much experience in media management and TV shopping operation. Today, I'd like to take this opportunity to share my views on TV shopping industry with you.
1. A Non-mainstream Role Across Media and Retail Industry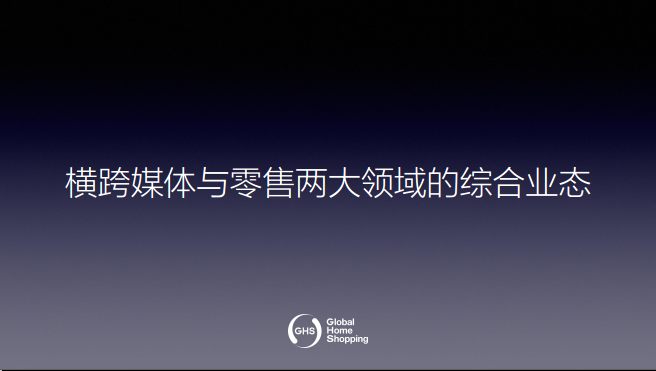 What China's TV shopping industry suffers most at its start-up stage is trust crisis. Thanks to excellent management of State Administration of Press, Publication, Radio, Film and Television and the industry's self-regulation, this problem has been basically solved. TV shopping is a comprehensive industry format across media and retail industry. It is reasonable to think that traditional TV media industry's development fundamentally determines the scale and development framework of TV shopping industry, and the retail industry's entire environment determines its way to compete.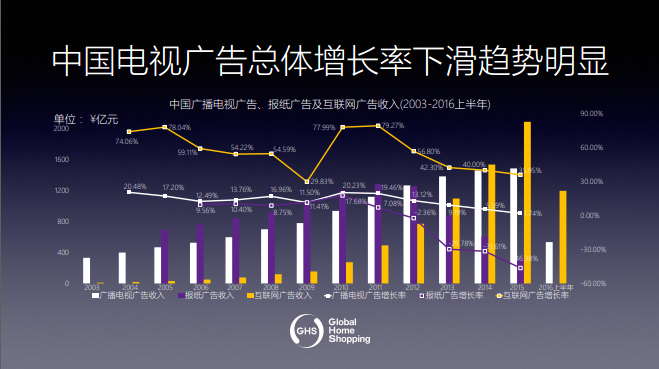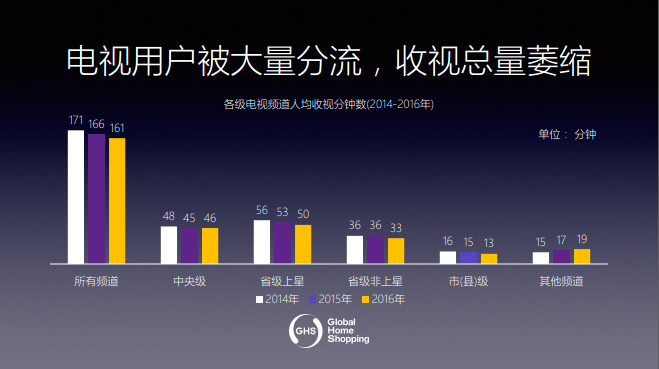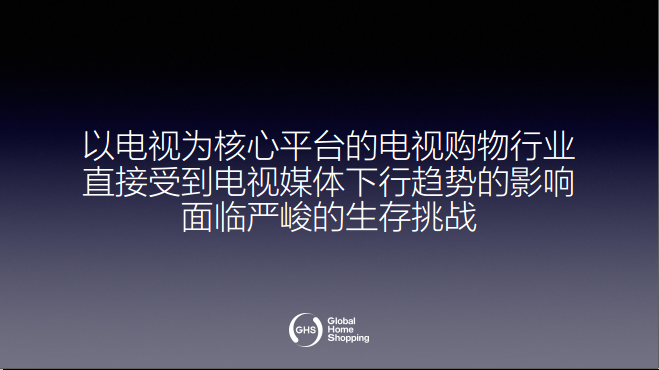 First, from the perspective of China's media industry, TV shopping is always depending on and to a certain degree restricted by the development of cable TV industry. Currently, according to various data, there are three trends facing TV media industry: first, growth rate of China's cable TV-based ads drops significantly; second, TV viewership declines because new media transforms many traditional TV users to Internet and mobile Internet users; third, TV ads operating income shows the Matthew Effect since ads investment majorly concentrates on CCTV and several leading TV stations. These trends are unavoidable for TV industry who must face the reality directly: TV shopping industry, with TV as its core platform, is directly impacted by sluggish TV media industry and now faced with severe challenges.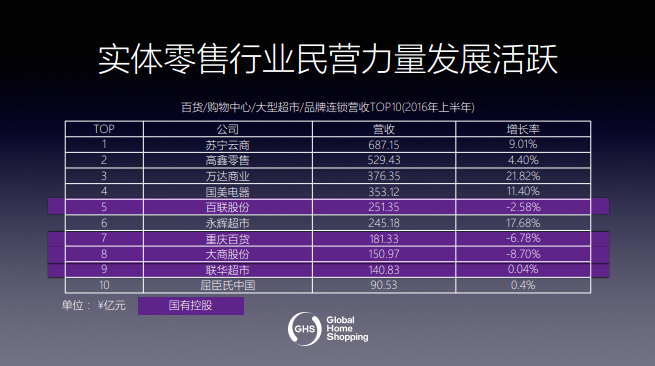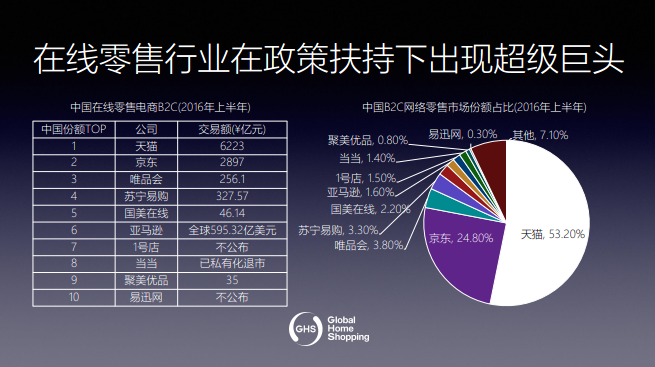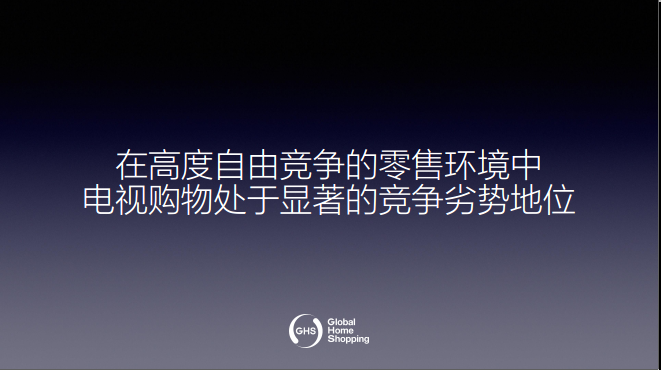 Second, from the perspective of China's retail industry, TV shopping is in essence a retail industry and faced with intense online and offline competition. On the one hand, private retail enterprises developed quickly. In terms of operating income in the first half of 2016, 4 state-owned holding companies dropped in the list of top 10 department stores/shopping centers/supermarkets/brand chain stores, and were operated at or nearly at a loss, according to statistics.
On the other hand, supported by the government's policy of "deregulation" and "encouragement", many online retailers have developed into retail giants within a decade by utilizing favorable policies with respect to capital, talents and tax preference. Tmall and JD.com altogether accounted for 78% of the market share in B2C online retail sector in 2016, maintaining their industrial giants status. Tmall even took 53.2% of the market share, ranking the first in the sector. Interestingly, most of the top 10 online retailers are foreign holding companies or companies with foreign shareholders.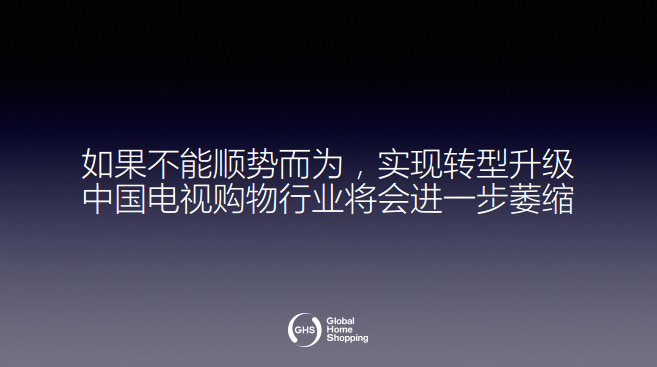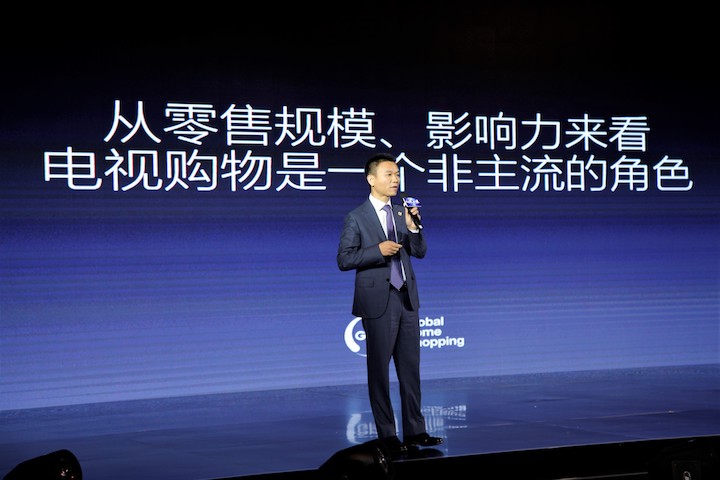 In such a highly free and competitive environment, TV shopping industry is in an inferior status and plays a non-mainstream role whether in capital, capability in attracting talents, scale, influence and channels or in international management experience. If the industry fails to conform to these trends and to transform and upgrade, it'll continue shrinking.
2. The Domestic Industry Having the Potential and Strategic Value To Become Mainstream Format Compared With Foreign Counterparts
Let's go back to TV shopping. We are faced with severe challenges, but we are still striving in this industry. Why?
Because we believe it's a vital industry.
Its vitality is shown in two aspects.
First, potentials. We're used to pre-judging if an industry can develop by comparing it to its foreign counterparts. By studying TV shopping industry in Taiwan and developed countries such as America and Korea, we can clearly figure out the industry's development potentials. In these countries and regions, TV shopping not only competes with B2C giants as an active retail format, but also becomes a national strategy that plays a critical role in stimulating consumer market, vitalizing industrial chains and invigorating economy.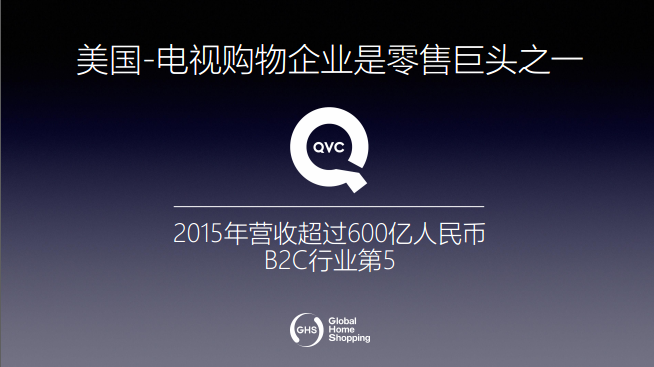 America is the country where TV shopping originated first and forms the most mature industry. It's one of the most profitable retail industry there. [A1] For example, QVC, a TV shopping retailer, acquired an operating income of more than 60 billion RMB in 2015, ranking the 5th in B2C industry and rivaling e-commerce and retail giants.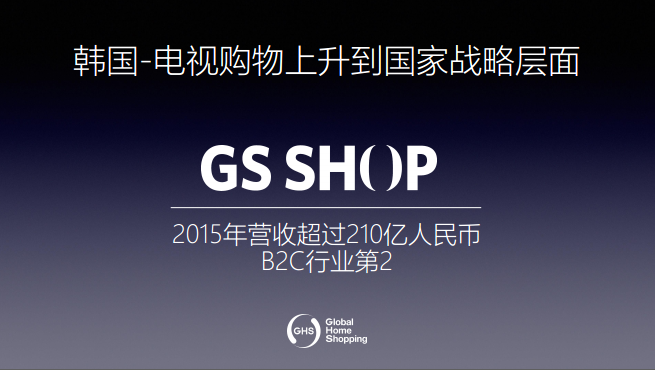 In Asia, South Korea has the most active TV shopping industry. Its success is not only demonstrated in its nationwide prosperity and dynamism, but also reflected in the export of huge amounts of goods made in South Korea. GS SHOP, the country's largest TV shopping company, acquired an operating income of approximately 20 billion RMB, ranking the 2nd in domestic B2C industry. There are 8 TV shopping companies in South Korea, promoting the industry to become the country's national strategy. Many Korean products are exported via TV shopping.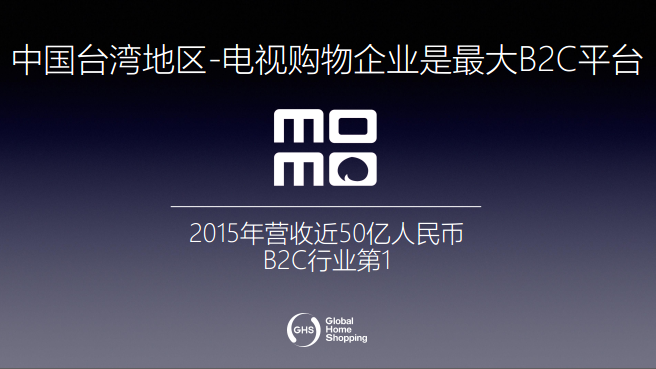 In Taiwan, China, MONO is the largest TV shopping company and the only listed TV shopping platform. At the same time, MONO is also the 2nd largest B2C enterprise in Taiwan by scale. The development of our counterparts indicates China's TV shopping enterprise and industry still have huge potentials and many possibilities.
Second, value. TV shopping industry has great internal value which originates from its capability in meeting demands of consumer market and society properly.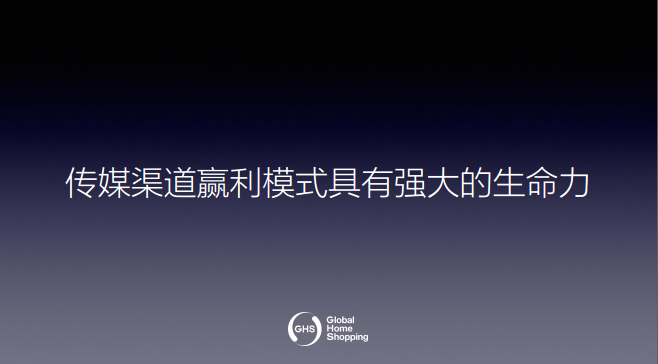 1)Value of Channels
I once wrote a book called Profit Mode of Media. In the chapter of profit model of channels, I discussed the possibility of turning media into a channel to form a new profit model, which was also the format of media retail industry that focused on TV shopping.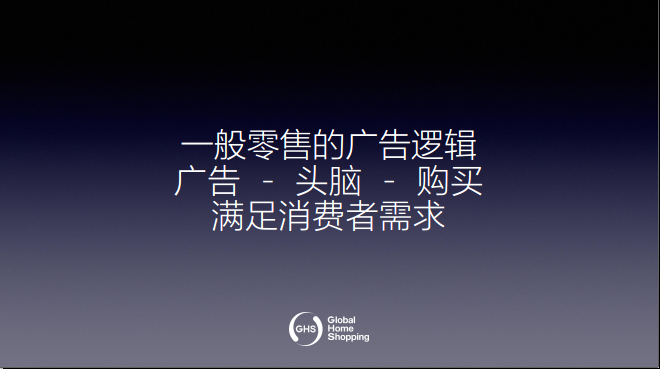 Retail industry has an advertisement-based logic: Persuade consumers and impress them with brands so that the brands may come into their mind when they make decisions. A "three times advertisement" theory is therefore generated, which means at least three times of exposure are needed to influence consumers' recognition on products. For example, Crest's advertisement for anti-decay toothpaste may not attract you to buy the commodity immediately, but may make you do so when you're standing in front of a toothpaste shelf. This is the logic of advertisement: Meet consumers' demand. Different from channels in traditional real economy and e-commerce, TV shopping, depending on media, can influence and guide consumers' recognition and decisions to a large extent, thus becoming an effective sale channel for brands. The most powerful company is the one that creates demand and TV shopping retailers are the companies that can create miracles.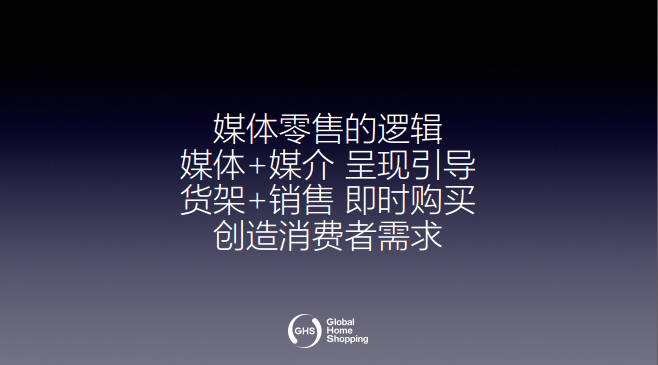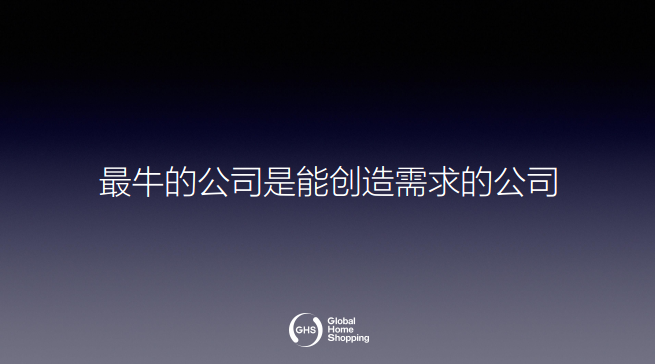 Now, as online retail channels develop, upstream manufacturers are forced to lower their prices, which makes it hard to produce high-quality products and encourage fine craftsmanship because bad money drives out good. However, TV shopping platforms have sufficient time to introduce a good product with excellent functions to consumers in details, like why the product is good, what are the advantages and why it is set at such a high price. That's an important reason why the unit price for TV shopping products is 5-10 times higher than Taobao. A perfect channel can enhance benign development of a country's manufacturing industry.
2)Value of Options
TV shopping industry is a platform that goes against trends. One of the major reasons for China's emerging retail industry in recent years is the expansion of platforms. Billions of commodities are displayed in these platforms, providing consumers with many options. Other than technological development, another reason for Taobao's rise is it provides consumers with many options and much space, which produces a great business model. Long ago, Super Voice Girls also provided normal audience with many options, making it extremely popular and gaining a high audience share.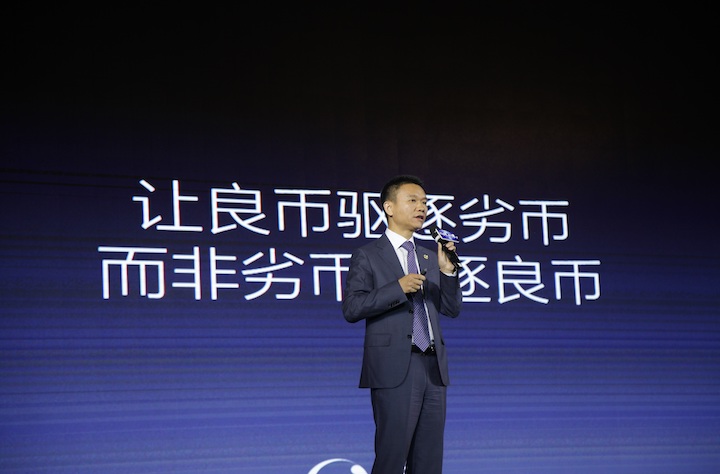 But when consumers face more options, these options may turn into costs instead of profits. Time for making decisions is increasingly precious, so consumers don't want to spend more time in it. Therefore, simplifying your shopping options becomes more valuable. This mode happens to be a key competitive advantage for media retail industry with TV shopping as format, because it sells limited amount of the best goods that have gone through the buyer system and quality inspection system and are introduced via videos in details in order to help consumers make decisions. It is a service mode that consumers need in a new environment.
3)Value of Society
As one of the retail channels linking supply and demand and boosting commodity circulation, TV shopping has profound social value. It focuses on potential consumption demand of Chinese families and middle class, and offers products that have been obviously upgraded for consumption and can stimulate domestic demand and promote consumption. The industry follows its principle of selecting fine products and refuses to compete at cut throat prices, thus ensuring the profitability of upstream enterprises, promoting upgrading and optimization of China's manufacturers and accelerating innovation. TV shopping can support and provide medium- and small-sized enterprises who are restricted by enterprise scale and resources and have no rapid access to the market with an innovative platform for products and services. Meanwhile, it also concentrates on products that upgrade lifestyle. Selling products is also selling good family culture and life concepts. From consumption- and recognition-oriented perspectives, improving living quality of a family, the smallest unit in a society, will be conducive to family harmony.
I'm convinced that a chance to fully develop TV shopping industry is coming.
China is upgrading its consumption and one of its goals is to retain consumers that have excessive consumption capacity at home rather than force them to consume abroad. How to realize this goal? In fact, all of us understand the motive for consuming overseas: For better quality and sales service. Therefore, in supply-side reform, TV shopping should play as a better retail channel and help form a better manufacturing eco-system. The industry has sufficient capability and conditions in realizing this goal. That is also a key reason for South Korea to raise the industry's status as a national strategy.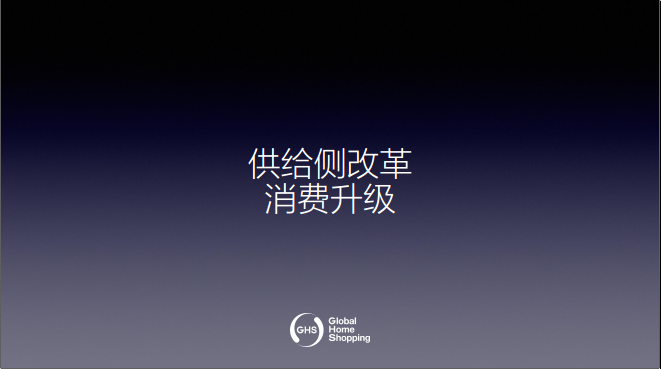 Supply-side reform offers more potentials and opportunities to TV shopping industry, and the return of family culture also becomes an important endorsement of the industry's development. A harmonious society needs to focus on family, and family-based consumption needs to be an important part in this society. In one's home, a living hall is usually a must, so do TV sets. Then it comes an opportunity for TV shopping companies to provide consumers with services. The largest difference, on which the industry relies to realize this goal, between the industry and other retail channels is that the industry can sell some commodities that others can't. Some domestic medium- and small-sized enterprises sell high-quality goods in Tmall and JD.com, but they just have poor sales because their products' functions can't be demonstrated through actual operation and comparison. TV shopping provides these commodities with a superb platform.
3. Driven by Market and Guided by Innovation, Transforming From Non-mainstream to Mainstream
Let's go back to TV shopping industry. To realize the industry's transformation from non-mainstream to mainstream, the industry and its enterprises need to continuously explore and practice bottom up.
Commodities are fundamental. In essence, retail is selling commodities. TV shopping's most important service is to recommend gorgeous commodities to consumers. Commodities are the basis that we all survive on and the core to guarantee the rise of the industry.
Program innovation. Programs are the core form of TV shopping and also one of the competitiveness that the industry needs to focus on in recent years. In this area, honesty is the most basic. Meanwhile, GHS also breaks TV shopping's stereotype and creates new and fashionable programs.
Upgrading customer service. In early stage, the industry was criticized for its poor service. But in recent years the service has been significantly improved. GHS is the only company that provides free return and refund service within 30 days in TV shopping industry in China. We have also pre-saved security deposit in Consumer's Rights and Benefits Protection Departments of Administrations for Industry and Commerce in many places to meet consumers' demand for return or exchange. Of course, we are worrying if extra pressure may be brought about due to consumers' rising requirements for service. But after a period of test, we found the pressure is bearable. We are willing to bear more costs in order to provide good service because, I think, service is not a means, but our commitment to consumers.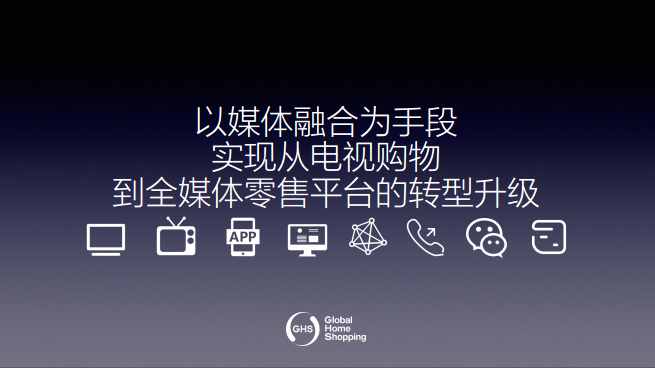 Channel expansion. In fact, China's TVs have changed dramatically. The TV that we're talking about is commonly called cable TV. As intelligent large screen devices and intelligent terminals popularize, it encourages more consumers to use not only TV sets but also other devices, and original TV industry's pattern will definitely change. Hence, TV shopping should also break its channel restrictions. I think the industry is a media retail industry, so everything connected to consumers is worth a try. Since 2015, GHS has rolled out its arrangement in OTT TV. Now we have 50% of the market share in this sector. In 2016, GHS also established a mobile video e-commerce platform in mobile phone terminals and the platform's activity level ranks the 72nd in all e-commerce Apps in China. Currently, GHS' non-TV side sales revenue accounts for 27%, and is expected to exceed 35% this year. We hope in the next year, this proportion will be raised to be the same as the TV side sales revenue. It's an important means of media convergence.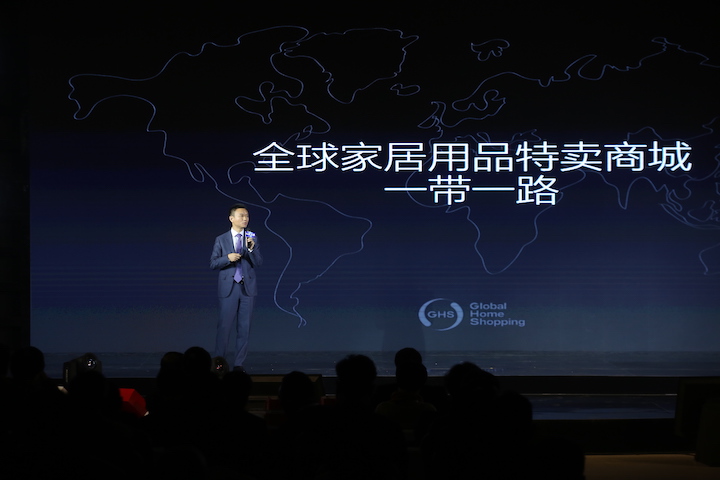 Expansion in the globe. GHS oriented itself as a provider of "global off-price household goods", so we strive to be an international TV shopping company. We also hope international household goods can be sold through our channels including TV sets, mobile phones and OTT. In 2017, we hope we can expand our business to the international market following the "One Belt, One Road" initiative. When we investigated the industry across the world, we found South Korea has completely occupied markets in South-East Asia. There are even 5 to 6 Korean TV shopping enterprises in regions like Vietnam and Thailand. By taking over these markets, South Korea succeeds in exporting large numbers of commodities to those countries, boosting its own economic growth. We have also studied many other overseas markets such as India and Russia, and we found all these countries have great potential. Therefore, we hope to expand our business to the globe first and cooperate with our foreign counterparts to establish a Chinese business platform for media retail and bring Chinese products to the world.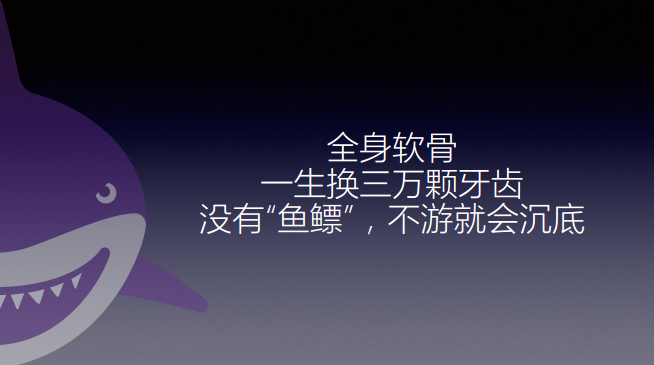 4. Shark Spirit
GHS has "Shark Culture". Shark is our spiritual totem. It may be strange and scary to Chinese, but as the strongest animal that lives at the top of the food chain, it has three characteristics that we need to learn.
First, it has cartilage all over its body, which helps it adapt to environment and improves its overall coordination. Second, it changes 30,000 teeth in its lifetime, which inspires us to keep learning and stay competitive. Third, it doesn't have a swim bladder, so it would sink if it doesn't swim. A strong man needs to work harder. This is GHS' corporate culture. We hope to work with partners who also have the shark spirit and become a world well-known media retailer.
Finally, I hope, with our common efforts, a media retailer reaching 100 billion RMB in sales revenue can stand out in China's TV industry, and becomes a new power rivaling Alibaba and JD.com and supporting the development of national retail industry. We also hope the government can provide this industry with more practice opportunities, and GHS is willing to be the pilot unit to play a valuable role in society and shoulder more social responsibilities.