2017 national quality month launched, GHS won "national quality credit advanced enterprise"
In June 30, 2017, Beijing-- Recently, 2017 national quality month held by the AQSIQ, the Central Propaganda Department, the National Development and Reform Commission, the Ministry of Education and other relevant industry associations officially launched. In this event, the domestic media retail platform GHS stand out from thousands of enterprises, won the "national quality credit advanced enterprise" award.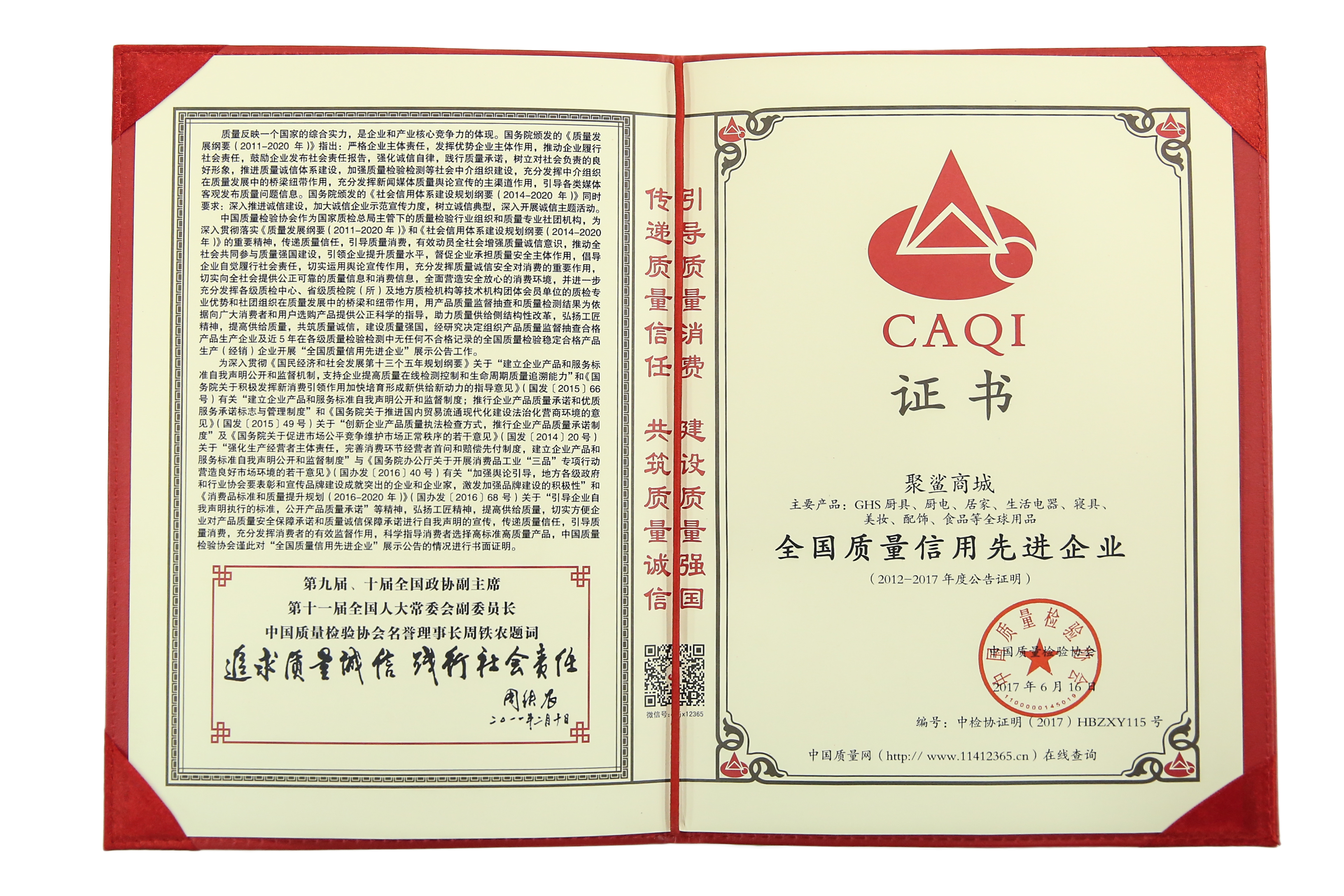 GHS won the "national quality credit advanced enterprise" award
Strictly control the quality of goods and services, GHS create an ideal life experience for customers
As the leading all media retail platform , GHS as "global home furnishing products sales mall", through a nationwide GHS shopping channel, excellent shopping mobile APP , smart TVs and fine shopping magazine, elects high quality home furnishing products from the world and creates an ideal life experience for millions of families.
"The quality of goods and services is the foundation for the rapid growth of GHS, as well as the foundation to create an ideal life experience for our customers. Every commodity we sell, from development to quality inspection, warehousing, distribution, after-sales service, there is a very strict quality management system and review system." GHS brand leader said. According to introductions, GHS has achieved the quality management system (ISO9001:2008) certification issued by the British Standards Association (referred to as BSI).
Buyers select global quality goods, provide "global home furnishings sales" service
As the consumption upgrade brings massive growth opportunities for the import commodities, GHS selects overseas quality goods around the world for consumers. At present, Zwilling, Hurom, WMF, Good Health, Dyson and many other well-known brands have settled in GHS. "Brand national visibility, and even global visibility means a guarantee of quality in a certain extent."the director said, "at the same time, our media retail platform bring huge sales for single products , so there is a strong bargaining ability, which allows us to create a sale for customers."
More importantly, at the same time GHS also upgraded quality of service after the threshold, launched 30 days free return&prepayment and other high standards services. "Service is the essence of retail, so in addition to the quality of the goods, we also pay attention to the quality of service, that is why we can get the" national quality credit advanced enterprise ". The director said.
It is understood that the national quality month is a long term quality event held by the AQSIQ and other relevant departments and industry associations. This event awards a number of outstanding "national quality credit advanced enterprises", aims to establish a value oriented advocating quality and improve the quality of the whole society, creates an atmosphere that government pay attention to quality, enterprises pursues quality, everyone concerned about the quality, push the economic and social development to the "era of quality ".