GHS Became the Designated Supplier of China Open
On September 15, 2017, Beijing, GHS and China Open jointly announced that GHS became the designated supplier of 2017 China Open. This is the first time that GHS cooperated with international super tennis competition, and GHS is the only TV shopping enterprise which became the supplier of China Open.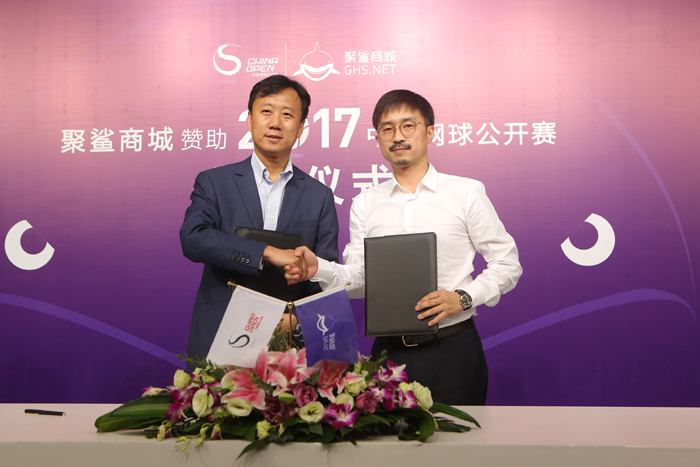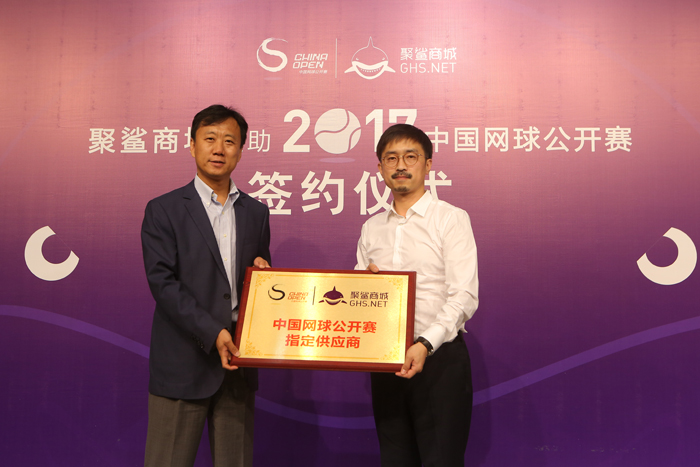 GHS Became the Designated Supplier of China Open
As the most watched mixed tennis tournament after US Open, China Open has been held for 13 sessions in Beijing since its establishment in 2004, and has become a sports brand event with global attention, commercial value, vitality of sustainable development and extension of imagination. In the 2015 and 2016 seasons, Chinese Open surpassed the traditional European and American competitions and the WTA year-end finals, won the WTA Global Broadcast Championship for two consecutive years. In terms of business sponsorship, China Open was named "The Best Commercial Event" of 2016 by the media, with nearly 50 sponsors and partners in 2017.
At the signing ceremony, Song Ziyang, the deputy general manager of TV shopping business of GHS, and Zhang Junhui, the CEO of China Open Company, 2017 deputy secretary general of China Open Organizing Committee, director of the tournament, signed a formal cooperation agreement. Song Ziyang said at the ceremony, "It's a great honor for GHS to become the designated supplier of the 2017 China Open, we hope that through this sponsorship, GHS can also make a contribution to making tennis become more popular in China, let more Chinese people especially young teenagers to participate in tennis.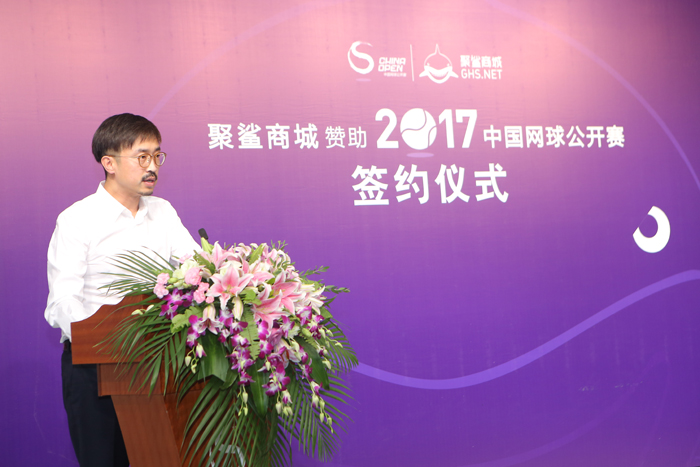 deputy general manager of GHS, Song Ziyang made a speech
Zhang Junhui said that the cooperation with GHS means the brand value of China Open has gradually recognized by the society, and Chinese tennis industry is developing vigorously. China Open hopes to work with GHS to bring new experience of watching tournament and consumption for global tennis fans, and become a model of the cooperation between top sports events and excellent enterprises.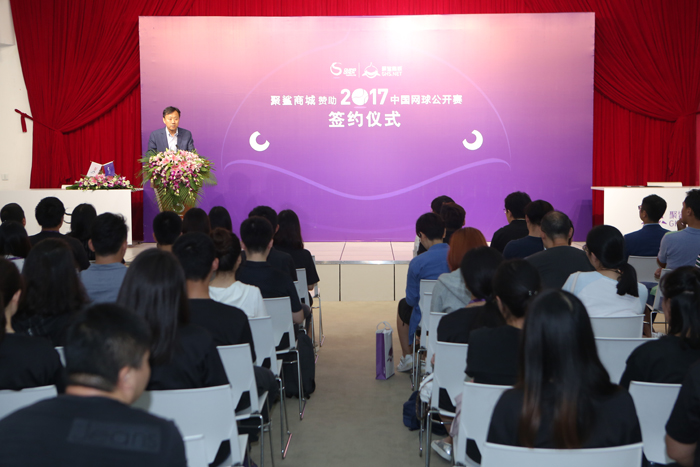 the CEO of China Open Company, Zhang huijun , made a speech
It is reported that GHS is committed to providing high quality global home appliances for customers, and GHS has rapidly grown to a leading enterprise of Chinese TV shopping industry in over 4 years. When asked why choose to cooperate with China Open, deputy general manager of GHS, Song Ziyang said, GHS is serving for people who love life and pay attention to the quality of life. This kind of people who have high-income and high educational level is the same kind of people covered by the China Open. Meanwhile, the sports spirit of never give up advocated by the China Open is fit with the non-stop spirit of GHS. It can be said that GHS and China Open is highly consistent in market, brand and culture, so the cooperation comes very naturally.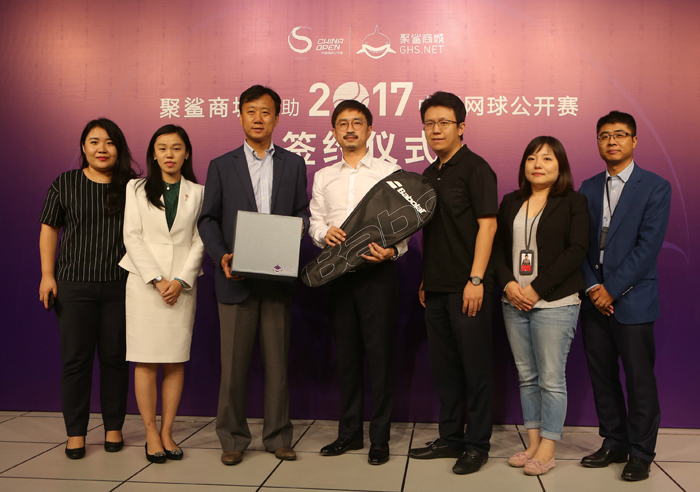 deputy general manager of GHS, Song Ziyang (forth from left) and the CEO of China Open Company, Zhang huijun ( third from left) exchanged gifts
Actually, GHS is arranging the overseas market, actively respond to the "The Belt and Road". The deputy general manager of GHS, Song Ziyang said in an interview, "internationalization is one of the important strategies this year, therefore we hope to cooperate with major international events like China Open. It can be said that the cooperation with China Open is also an important symbol of the internationalization of the brand image of GHS."
The 2017 China Open will begin at the National Tennis Center on September 24 to October 8. This season the king is return, after won the 16th Grand Slam champion in US Open, Nadal will attend China Open by appointment. In addition, there are new super star Zverev who won two Masters champions this year, Bulgaria handsome Dimitrov, and Czech star Berdych and other players, the male lineup is very splendid. The female lineup, the top two player Kvitova and Sharapova have come back successfully, together with the world champion Muguraza, US Open champion Stephens, Williams, Halep, Karolina Pliskova and Wozniacki and other female stars, who will ultimately won the champion of China Open is also worth expecting.
China Open has launched a variety of discount ticket measures this year, and all the tickets (except the final in the Diamond Stadium) are ten percent off. Buying ticket in the China Open official website www.chinaopen.com, you can get payment subsidies provided by the diamond sponsor CITIC Bank and platinum sponsor China Union-pay. Besides, you can also buy the ticket through the ticket agent Sports Window, Damai, China Entertainment Ticket, Yong Le Ticket and other official channels.
At the same time, GHS has also prepared an exclusive welfare for the vast number of China Open fans. During the period from September 14 to September 28, you can participate in turntable sweepstakes of GHS, lucky participants will get the tickets of 2017 China Open, enjoy the wonderful tournaments of China Open.