Speech of GHS President Jason Kong in GHS & CTV Strategic Partnership Signing Ceremony & Press Conference "Prosperity in Unity"
Ladies and gentlemen,
Good afternoon!First, it's my great pleasure to extend a warm welcome to all of you.I sincerely hope to communicate with everyone in English but unfortunately my English is poor, so allow me to continue my speech in Chinese, Thank you!
It's my pleasure to be here with you today.Because of the cooperation between citrussTV and GHS, we have so many friends who came to Dubai from all over the world.Thank you very much.We have the opportunity to start our business cooperation and trade from here to the Middle East, North Africa, China and even the whole world.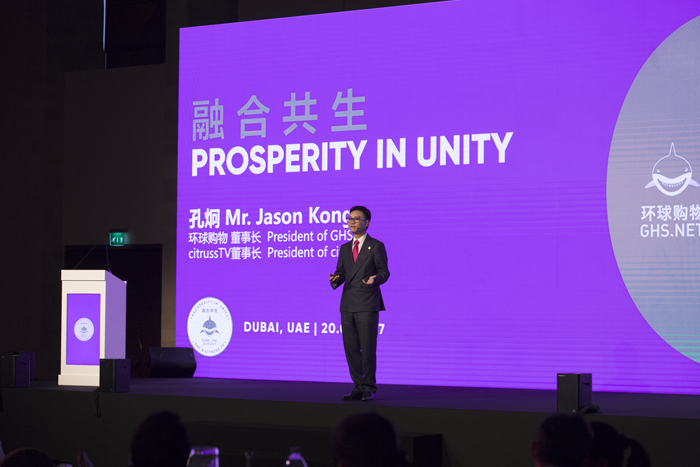 When I was having breakfast at the hotel today, I saw the carrot.The carrot reminds me of the Silk Road two thousand years ago.In fact, many fruits and vegetables in China have foreign names such as cucumber, lima bean, and also watermelon.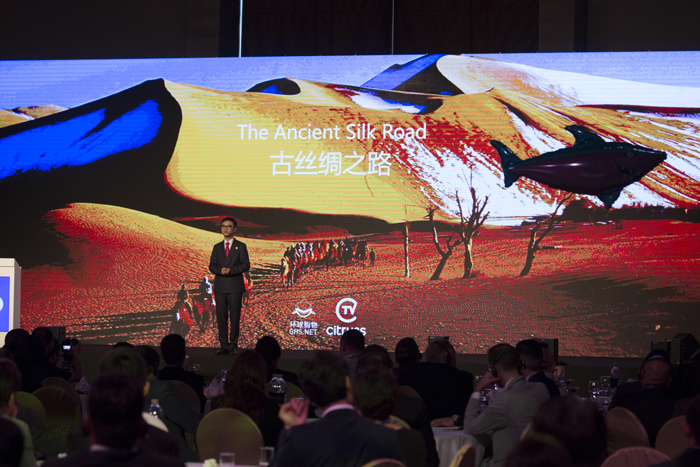 Through two thousand years, the Silk Road also brought China's porcelain, silk, and tea to the Middle East.It only takes a few hours from China to Dubai by air now.However, two thousand years ago, it was a quite distant distance.Fortunately, our ancestors were not blocked by this far distance. They crossed the vast desert, and built the ancient Silk Road with a total length of 6440 km.Two thousand years later, Chinese President Mr. Xi Jinping launched the "Belt and Road Initiative".We hope we can develop a new economic community and even a destiny community with the countries along the ancient Silk Road.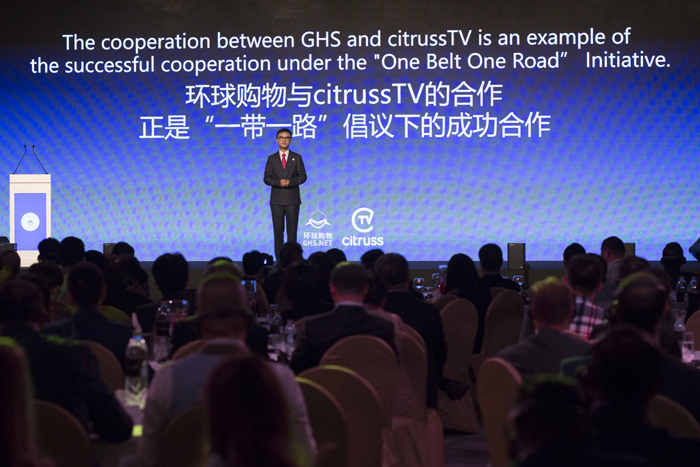 The cooperation between GHS and citrussTV is an example of the successful cooperation under the "Belt and Road Initiative".
I have to point out that last October I asked Samuel to do some research on the market of the Middle East, we wanted to set up a TV shopping company in Middle East. At the beginning we planned to set up a TV shopping company by ourselves.During this process, in order to understand our competitors well, I asked Samuel to contact the staffs in citrussTV frequently. Through communications with Nicolas, Walid and others from citrussTV, we are glad to find that there was much in common between our two companies.
We have the same understanding in the company's culture, which is the basement of our cooperation.We have become partners from the first meeting in last October to today's investment.It took less than a year from the very beginning to the final international cooperation,which is extremely fast.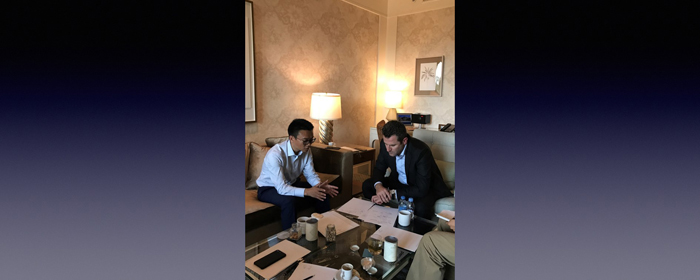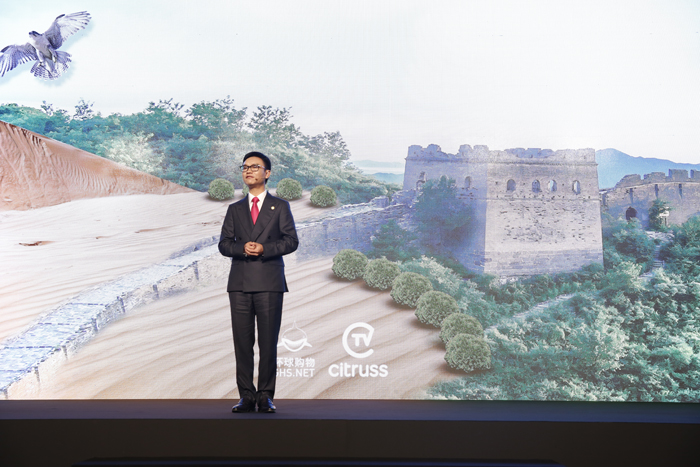 The negotiation process is not always smooth, of course. I still remember the first time when Walid and Nicolas went to Beijing to visit GHS, they came in such a hurry at the Terminal 3 of Beijing Capital Airport which may be the most famous tourist attraction they have visited.After this cooperation, I would like to invite Nicolas and Walid to China to enjoy the beautiful and breath-taking scenery.Later, I came to Dubai and had intensive discussions with Walid at the hotel.Walid and I discussed our cooperation from morning to evening, we were too dedicated and forgot to eat. So, my deepest impression on our business negotiations in Dubai is hunger.Then I gained an experience that when the negotiations become really hard, skipping meals would make it easier to succeed. This is a joke, of course.Fortunately, thanks to the mutual understanding and tolerance, we have found our similarity and reached our cooperation.
The shift from the beginning of the competition to the final cooperation is because we see more value in cooperation rather than competition. In today's society, by replacing the zero-sum game with cooperation, a win-win situation becomes the solid foundation for our future success.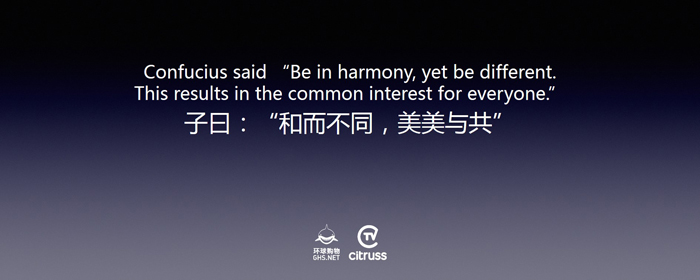 I am the descendant of the Chinese sage Confucius, and I am his 73rd generations descendant.My ancestor Confucius said two sentences, one is harmony in diversity, another is co-existence with difference.What is the meaning of those? It means we have to respect each other's differences under a common goal.This is the wisdom of Chinese people, we pursue harmony, equality, mutual benefit and win-win situation, GHS also takes this principle as the basic value of external business.We believe this kind of win-win cooperation can replace the idea of zero-sum game, and generate greater value in the global business market.
Today we have joined hands to set up a new citrussTV.For citrussTV, I am full of boundless hope and longing for its future.I believe citrussTV can develop into a great company, which is based on several aspects.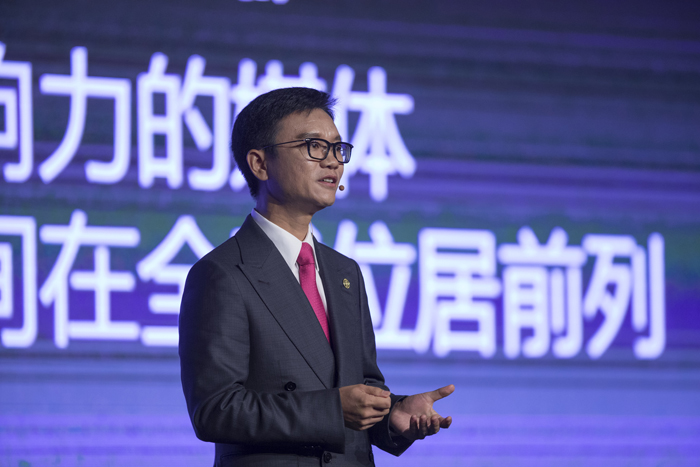 First of all, television is a well-developed media in the Middle East. Due to the weather and culture, people in the Middle East spend a lot of time watching TV. Statistics show that the average time spent watching TV here is among the highest in the world, which creates good media environment and audience base for the TV shopping business. TV shopping as a retail model, it can efficiently cover nearly all families and broader population via the satellite, the Internet, and the mobile devices. We could conclude that in the Middle East, TV shopping is a more influential and extensive retail channel than online shopping and in-store shopping in the Middle East. It implies great value and potential.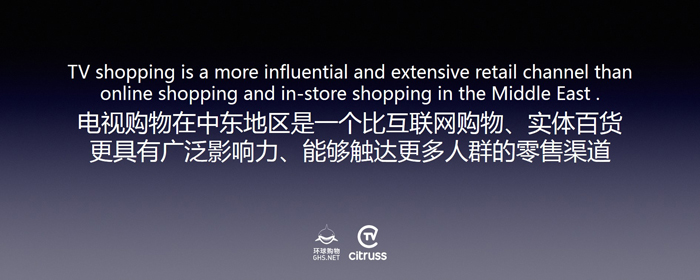 Secondly, for the growing consumer demand in the Middle East, the economic environment is getting better, so consumers need to buy more quality goods, and the provision of high-quality goods is the biggest advantage of TV shopping.Because of TV shopping's convenience of new products launching, it is quite easy to introduce new products on TV.
Therefore, innovative and fashionable are the characteristics of TV shopping products. Meanwhile, TV shopping can create big sales for a particular product.So, TV shopping companies have stronger pricing power to provide consumers with high quality products with competitive prices.Attractive price with high quality is also the synonym of TV shopping.citrussTV Merchandisers will maximize their resources and networks to enhance the selection of high-quality products globally for consumers in the Middle East and North Africa, and that is the second aspect.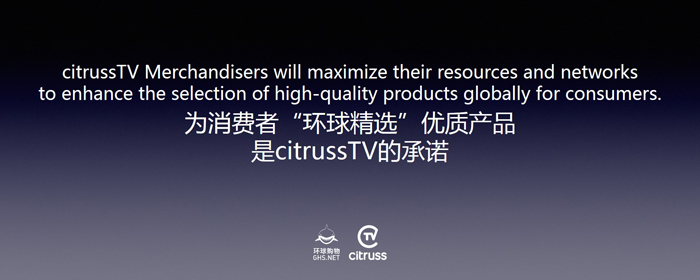 Thirdly, as a TV shopping company, citrussTV will provide more household products.Although the cultural backgrounds between the East and West are different, the care to family is the same. To create a happy and harmonious family is our common pursuit.We hope that every product sold by citrussTV will become a way for family members to communicate with each other.We not only sell products, but also spread a more harmonious family life-style, so that the quality products can become the source of family vitality.
I believe, "spreading love" not only reflects the corporate value of citrussTV, but also that of modern commercial civilization.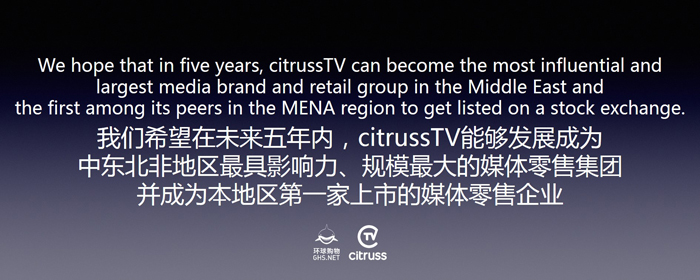 For citrussTV, we will not only strengthen our advantages on TV.At the same time, we also need to strengthen our advantages on mobiles, especially the mobile videos.We will build an excellent mobile video E-commerce platform in the Middle East region as soon as possible, to serve our massive consumers.We hope that in five years, citrussTV can become the most influential media retail group in the Middle East and a publicly listed company.I have great confidence in realizing this goal.
Certainly, the realization of the goal requires a lot of factors.The most important factor is the team, i.e. people.GHS is not only one of the fastest growing company, but also the most excellent TV shopping companies in China. In GHS, there is a spirit we called shark spirit, which I would like to share with you here.Because sharks have several characteristics.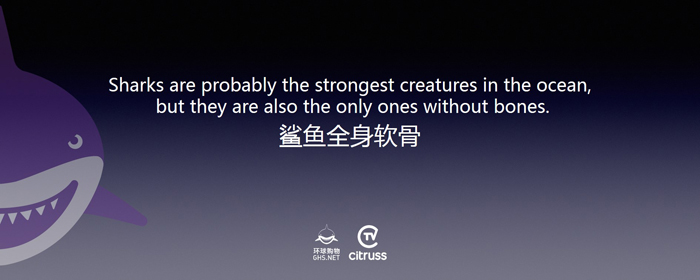 First, sharks are probably the strongest sea creatures and the creatures who are in the top of the food chain.But sharks are the only kind of fishes covered with cartilage. Sharks do not have a tough bone, because the cartilage makes sharks more coordinated, which makes it the strongest creature.This is very much like an enterprise, we have to adapt to the changing environment. The enterprise which can adapt the environment well would develop fast.
Secondly, the most powerful weapon of sharks is their teeth. Everyone knows shark's teeth, but what we don't know is that sharks have to change 30,000 teeth in their lifetime, to keep themselves competitive through the constant replacement of their teeth.This is also similar for an enterprise. Learning is like the teeth of the enterprise. We need constantly learning and upgrading to adapt the market competition.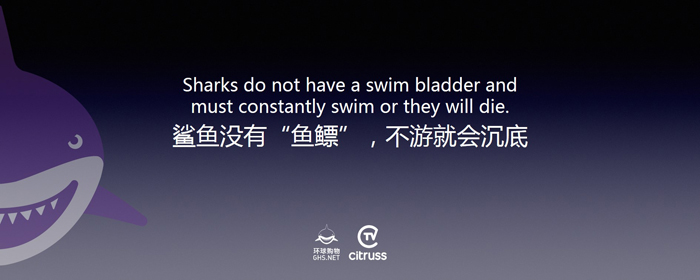 Thirdly, Sharks have no swim bladders.Ordinary fishes have swim bladders to remain at a uniform depth in the water. Sharks have no swim bladders, so they must constantly swim or they'll sink and die.This tells us that the strong enterprises all must keep on working hardly.From another point of view, the stronger enterprises need to work harder.The shark spirit inspires everyone in GHS.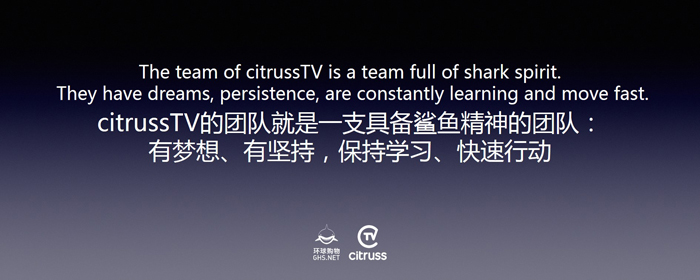 It is my great honor that I become a member of citrussTV through our cooperation. The team of citrussTV used to have employees from 18 countries, but now the number increases to 19 because of me. So we are a truly international team. citrussTV 's staff is very open, innovative, also having enterprising spirit, that is why the GHS chose to cooperate with citrussTV.Therefore, the team of citrussTV is a team full of shark spirit, with dreams and persistence, keeping leaning and moving fast. With such a great team, we have infinite confidence to achieve our targets in the future.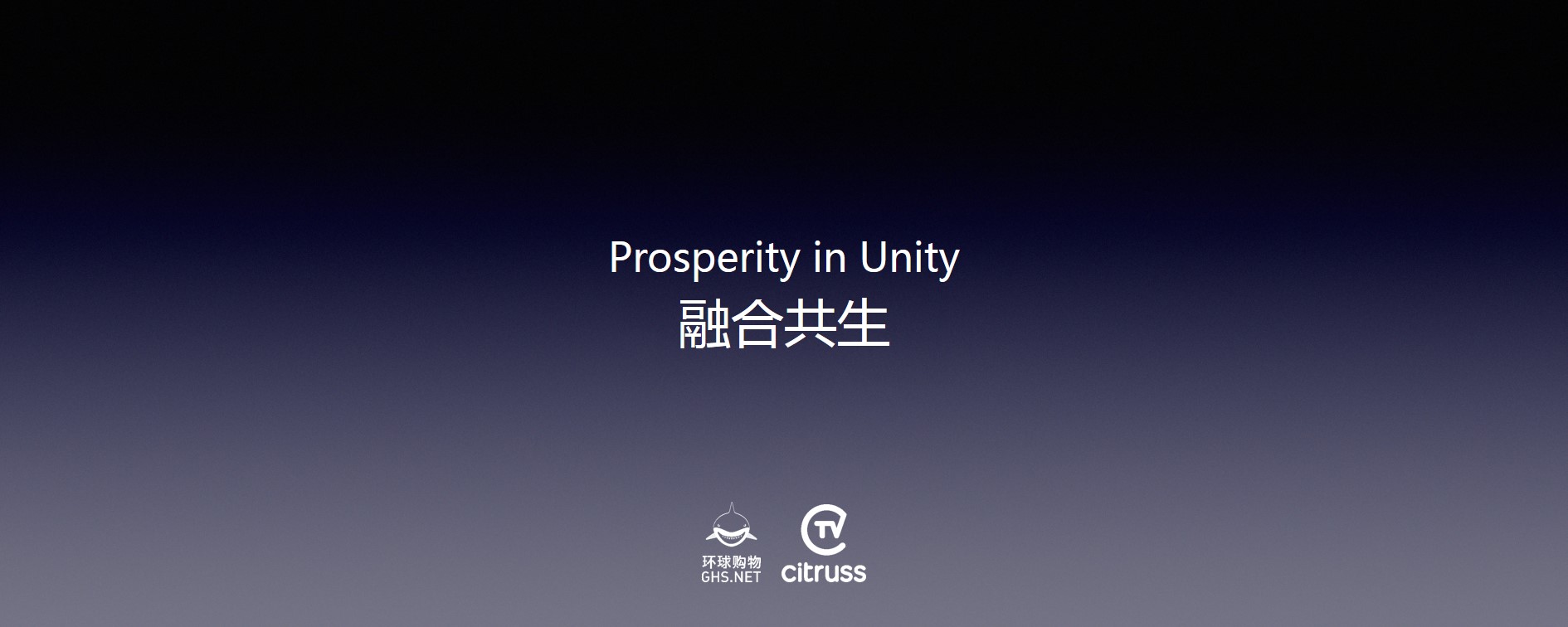 Whether the ancient Silk Road, or today's "Belt and Road Initiative", we have never stopped mutual communications and exchanges in the past thousands of years.For the cooperation between GHS and citrussTV, what is more significant is that we did not fall in to the fierce competition of the zero-sum game, but we choose to work together to achieve a win-win situation.I believe, this win-win road will lead citrussTV to provide customers in the Middle East with ideal life experience and become a great and respectful company.
We can't achieve success without your supports in this cooperation process.I hope that all of you can give citrussTV more supports and more care.We sincerely hope than we can work together in the future to realize the prosperity in unity!
Thank you very much!