Jason Kong: A Bungee Jumping Fan
From China Radio, Film & TV 2012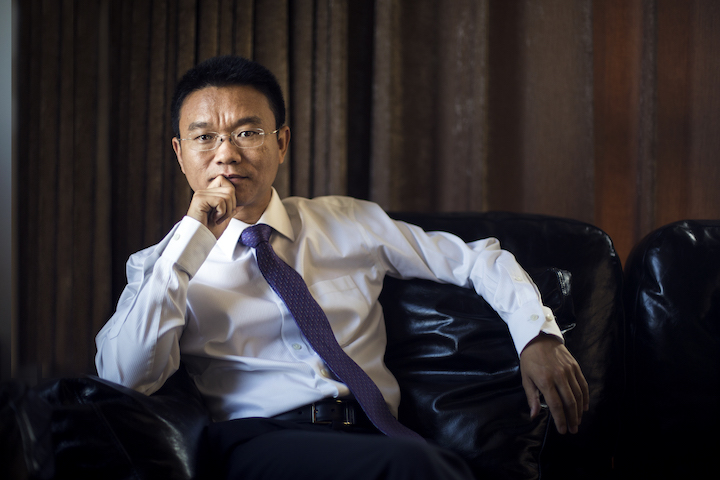 Everyone fears the unknown. They hesitate when taking a new post. But the unknown is not only worrying but also exciting.
"Capital is very different from traditional TV in operation, and I have been busy learning it recently." One day at the beginning of December 2012, in the office of China Media Capital (CMC) located in LG Twin Towers, Jianguomenwai Street, Beijing, Jason Kong seemed slightly tired as he had just got back from his business trip to the United States. He said that he had been reset and excitedly studying since he took up the post of managing director of CMC in September 2012. Nearly six months before, he submitted his resignation from deputy director of Guizhou TV Station, chairman of Guizhou TV Culture Media Co., Ltd., and chairman and president of Jia You Home Shopping Group.
Changing the track
In June 2012, Jason Kong put a seven-page handwritten resignation letter on the table of Bai Fangqin, director of Guizhou Radio and TV Station.
At that time, the national civil service examination registration was being carried out fiercely, and the whole society regarded stability as the standard of a good job. Jason Kong's resignation shocked the whole industry. Many people's first feeling was pity, shock or admiration, but more of puzzlement.
"There were many guesses. For example, I had trouble with my leaders, my promotion channel was blocked, or the inner relationship was not good." There were short messages and calls for inquiry one after another, and Jason Kong could only explain the reason. "None of these was true. The provincial and TV station leaders were all very nice to me, and my registration indeed involved my understanding of the platform and the personal pursuit for the future lifestyle."
"Four Batches" Talent of the Central Propaganda Department, member of All-China Youth Federation, National Top 100 Theoretical Workers, advertising leader in China, National Advanced Worker, senior editor, senior economist… during the 16 years in the TV station, Jason Kong won a number of honors. Why did he resign in spite of the smooth career? Jason Kong said, "In my heart, I always tell myself, I should pursue an extraordinary life."
From joining Guizhou TV Station in 1996 to resigning in June 2012, Jason Kong worked there for 16 years. During this period, Jason Kong kept leaping in his career.
In July 1996, the 21-year-old Jason Kong graduated from Automatic Control Department of Southeast University, and joined Broadcast Department of Guizhou TV Station, where his main work was arranging and broadcasting programs. Then in October 1998, after several rounds of selection, Jason Kong was recommended as one of the members of the leadership team of Guizhou Informatization Expert Committee. All the other 18 members of the team were either university principals or chief engineers, so the 23-year-old Jason Kong became the youngest "informatization expert of Guizhou".
The word "youngest" has formed ties with him ever since
In 1998, Jason Kong left Broadcast Department, and started to fight in the advertising market. From 1998 to 2004, Jason Kong successively served as deputy general manager, chairman /general manager of Guizhou Tianma Advertisement Company, a subordinate advertising company of Guizhou TV Station, and held concurrent posts of deputy director of Advertising Department and deputy director of Editor Office of Guizhou TV Station. During this period, Tianma developed from a small company with only more than ten employees and an annual turnover of less than 1 million yuan to a first-class advertising enterprise in China with more than 100 employees and an annual turnover of over 200 million yuan.
In 2004, the 29-year-old Jason Kong took up the post of director of Advertising Department of Guizhou TV Station, becoming the youngest advertising department director among provincial TV stations in China. In 2005, Jason Kong who had just turned 30 took up the post of assistant of director of Guizhou TV Station, and held concurrent posts of director of Advertising Department of Guizhou TV Station and chairman of Guizhou Tianma Advertisement Company, responsible for advertising, programs, arrangement, coverage, pay TV, film and television channel, public life channel, etc. The marketing work of Guizhou TV Station was influential throughout the country.
In 2007, Jason Kong led the inter-provincial cooperation between Guizhou TV Station and Gansu Radio, Film and TV Station. "Guizhou-Gansu Cooperation" pioneered in cross-regional cooperation between provincial TV stations in China, and was listed in the "60 events in 60 years" of China's radio and television industry. During this period, the program rating and advertising revenue of Gansu Radio, Film and TV Station more than tripled, and Guizhou TV Station's investment also made a lucrative return.
In 2009, the 34-year-old Jason Kong became deputy director of Guizhou TV Station, the youngest deputy director of provincial TV station in China.
In the first half of 2012, Guizhou TV Station and Guizhou People's Broadcasting Station were merged into Guizhou Radio and TV Station. When Jason Kong had passed promotion examination and service inspection, and the appointment of him to a deputy department level post was to be announced, he made this decision which was described as "shock" by many people, and resigned from deputy director of Guizhou TV Station and all other related posts. After giving up the identity of national cadre, he entered another new platform and industry - China Media Capital, and took up the post of managing director.
A Brandnew track
Founded in April 2009 with a scale of 5 billion yuan, CMC was the first cultural industry private equity fund filed in the National Development and Reform Commission. The main initiators and investors included China Development Bank, CMCDI, SMG, etc. Li Ruigang serves as chairman.
Li Ruigang's purpose was not just setting up an investment fund. He believed that China's cultural and media industry needed to speed up the search for an investment and financing pathway in line with China's national conditions, and substantially increase industrial development through docking with financial tools and capital market.
"Today, the value of China's media assets is significantly underestimated, and only the capital market can find all its intrinsic value and market potential," said Li Ruigang in a media interview. "I have worked in SMG for nearly ten years, and I have neither exerted all my efforts nor applied all my ideas. During my one year of work in the government, I was educated a lot. Now I'm re-positioning myself, and considering following a new road different from traditional media, doing something different, and jumping out of some institutional and geographical limits."
Within a few years following its founding, CMC took several actions in the cultural industry, repeatedly becoming the focus of the media: it invested in China's largest TV shopping company - Oriental TV Shopping, with sales reaching 7 billion yuan in 2011; co-founded Oriental DreamWorks, a global home entertainment company with DreamWorks of the United States, made international animation films emnodying Chinese cultural elements, and built Dream Center, a large-scale urban cultural gathering area on the bank of Huangpu River in Shanghai; invested to hold Star TV, formerly wholly owned by News Corporation, Channel V, and Fortune Star, the world's largest Chinese film library, and co-founded Star China Media with News Corporation. Canxing Production, a subordinate of Star China Media, introduced and created Let's Shake It, China's Got Talent, as well as The Voice of China, the stun in 2012.
What Li Ruigang did moved Jason Kong. At the beginning of 2012, Jason Kong called Li Ruigang and invited him for a chat. Before this, since Jason Kong successfully drove the Guizhou-Gansu Cooperation, he was entrusted by Li Ruigang to mediate between some television stations during SMG's external cooperation.
Li Ruigang's first words to Jason Kong were "Do you want to change your job?"
One wanted to realize his dream, and the other was seeking talents with eagerness. After the meeting, Jason Kong made up his mind to resign.
"I have some dreams after all." In Jason Kong's view, although China has been the world's second largest economy, the cultural industry of the whole country is not as big as the News Corporation. From this point of view, there should be many opportunities in the future. And seen from the current situation, to make the cultural industry stronger and bigger, what CMC is doing should be a direction. "I told Li Ruigang that it might be difficult for me to lead such an undertaking, but if I had the honor to participate in this process, it was a very good experience for me."
A heart of bungee jumping inside the gentle appearance
Wei Wenkai, R&D director of Gansu Radio and TV Station who had worked with Jason Kong during the Guizhou-Gansu Cooperation was not surprised at his resignation. "I was not surprised at all when hearing that he had resigned and joined CMC. Although he was doing traditional TV work, I felt he was not a routineer. He not only has his own normative knowledge base, but also is extraordinarily courageous and non-stereotypical.
People familiar with Jason Kong all know that he likes playing football, and those who are closer to him know that he also loves bungee jumping.
"I have played bungee jumping for several times, and it is very exciting," said Jason Kong. He has often seen people too scared to jump, and he is also afraid when standing on the bungee jumping platform. "Although I know there is no danger, fear is an instinct, and every time I will jump finally."
"Everyone fears the unknown," said Jason Kong. "They hesitate when taking a new post. But the unknown is not only worrying but also exciting."
When Jason Kong shifted from Broadcast Department to Advertising Department in 1998, he didn't hesitate as well.
"At that time, Broadcast Department had some advertising resources, and I who had just graduated from university soon became the sales core of the resources." Interested in advertising business, Jason Kong accepted the invitation of writing management software for Advertising Department. After getting familiar with the work, he also helped design activity programs or evening party scripts. As a result, he got the appreciation by Bai Fangqin, the then director of Advertising Department, who mobilized Jason Kong to transfer to Advertising Department. Finally, Jason Kong refused the attractive conditions provided by the deputy director of Broadcast Department, such as "promotion to section level if staying in Broadcast Department", and joined Advertising Department, completing his first transition in workplace.
Guizhou is an economically underdeveloped area with relatively less resources, so outward expansion becomes inevitable. In June 2007, Ningxia Satellite TV and Gansu Satellite TV were ordered by the SARFT to stop broadcasting commercial advertisements because of their incompliant broadcast of medical information service and TV shopping programs. Jason Kong sensitively felt that this was an opportunity. "At that time, the leaders of Gansu TV Station were investigating in Guizhou, so we initially contacted with them, and finally realized the strategic cooperation between the two sides through efforts." In September 2007, Guizhou TV Station and Gansu Radio and TV Station started the attempt of cross-regional cooperation. The two sides co-founded Lanzhou Zhicheng Tonghui Culture Communication Co., Ltd. for the advertising operation of Gansu Satellite TV (Gansu terrestrial channels were also included later). Now that the cooperation had started, who did the work? By then, Jason Kong had been assistant of director of Guizhou TV Station, and all the work he was taking charge of went smoothly. Someone advised Jason Kong not to act rashly, because cooperation was always risky, and any failure would affect his official career; "if you hold your post in Guizhou TV Station and meanwhile re-expand the market of Gansu Satellite TV, you may be exhausted by the hard work".
In spite of the discouragement by his friends, Jason Kong "went upstream" again. He led a team of ten people to go to Gansu and took up the post of executive director of Lanzhou Zhicheng Tonghui Culture Communication Co., Ltd.
The same decisiveness also occurred in 2008. This year, a farsighted investor sought for TV shopping project cooperation with Guizhou TV Station. Under the recommendation of the investor, Guizhou TV Station set its foot in the media retail field. It applied the license for Jia You Home Shopping, a national professional shopping channel, becoming the fourth TV station owning a national shopping channel following CCTV, Hunan TV and Anhui TV. The newly-founded Jia You Home Shopping didn't have a suitable operator, and its loss was more than expected. "At that time, the loss was not within our prediction; instead, we felt the loss couldn't be made up, and was out of control," said an employee of Jia You Home Shopping. "Everyone thought the company would soon be closed."
"There are few resources in Guizhou, and it will be a pity if this project fails," said Jason Kong to Bai Fangqin and the investor leader. "Now that there is no proper president, let me do it." At this time, there were also people advised, "You have already been deputy director of the TV station. You only need to do management work instead of rushing to the front. Your comfortable days will come, so why do you meddle with such matters?" However, Jason Kong disregarded others' opinions and went to Beijing to serve as chairman and president of Jia You Home Shopping. Unfamiliar industry, immature market, multi-link industrial chain management, large numbers of service requirements, large losses... Jason Kong addressed all these problems with his slightly thin body. By 2012, Jia You Home Shopping has developed into one of the top three companies in the industry, achieving a sales volume of nearly 2 billion yuan and having more than 1,600 employees.
Looking back on the16 years of work in the TV station, Jason Kong's every major transformation seemed to be "going upstream". As for these choices, Jason Kong said with a smile, "Maybe I lack a sense of security, so I have to keep doing something to prove myself."
My dad is a business traveler
"My dad is a business traveler!" This is the description of Jason Kong's work by his daughter in the kindergarten. Outsiders just regard this as a child's innocent words, but Jason Kong's wife Yu Ye often feels sad about this. "Every time my daughter asks 'where is my dad?' I say he is on a business trip. Then after a long time, she thinks his work is just going on business trips."
In Jason Kong's work schedule, the most remarkable record is flying for more than 140 times a year, which means two business trips a week. "Our daughter had no idea about this when she was a kid, but as she grows up, she also misses his dad when she cannot see him often. Sometimes when Jason Kong comes back home, she holds him and crys, without saying anything." While other people see the glamorous side of Jason Kong, his family members see more his hard work."
"It is very difficult for a man to balance work and family when he is very busy. If someone says he manages to do this, he usually puts family at another point of view. Especially under the status quo in China, most people make achievements by sacrificing their family," said Jason Kong. Fortunately, his family particularly supports and understands him, and this drives his advancement.
During the 16 years in Guizhou TV Station, Jason Kong only took an annual leave before his book Profit Models of Media was published in 2009. "Most manuscripts were written at nights and on planes, but I needed a continuous period of time for final compilation, so I had a week off." The postscript of the book was written by Jason Kong on the plane from Guiyang to Beijing on October 10, 2009. In the Postscript, Jason Kong wrote: "For the publication of the book, I want to first thank my wife Yu Ye. It is her encouragement and support that make me always believe in and constantly challenge myself.
In the eyes of his families, Jason Kong is a "flyer". Then in the eyes of other people, what is Jason Kong like?
Jason Kong looks like a frail scholar. He speaks softly, so it is difficult to relate him with those commonly seen eloquent advertisers.
"He is very mild, and people rarely see him be impatient. In spite of his thin body, he is very explosive," said Wei Wenkai. "Jason Kong never looks at manuscripts when he is giving lectures, and his thought is very clear. People can see from his body the power of media, knowledge and experience.
Superman, Wonder Baby, Monkey King, Black Cat Detective, Popeye, Doraemon, Lodge - these are the answers given by Jason Kong's colleagues in Guizhou TV Station. In the eyes of his subordinates, Jason Kong has both high IQ and EQ, always pushing himself forward to solve crisis at crucial moments, like a responsible big brother.
Jason Kong is full of talent. He wrote lyrics for The Song of Tianma - Commitment of Wisdom, The Ideal, and The Home of Love. The three songs have been sung by the employees of Tianma Company, Advertising Department of Guizhou TV Station and Jia You Home Shopping.
Although with a technology background, Jason Kong did a good job in TV advertising business for over ten years. After getting familiar with television coverage, channel operation, marketing and other television operating rules, he transferred to the e-commerce market and entered the media retail field. Interested in capital market, he spared time to study in School of Economics of Peking University and Cheung Kong Graduate School of Business, and published during the period Profit Models of Media, which is regarded by the industry as the first book revealing the key to media operation success.
From technical expert to advertiser, media worker, enterprise operator, and to the youngest deputy director of provincial TV station, Jason Kong changed multiple roles in just more than ten years, and wonderfully performed each of them. Now, he has changed his role again out of his dream.
"I don't have any desire for power. For me power is only a tool facilitating work," said Jason Kong. "If not particularly necessary, I basically go on business trips by my own." This is very similar to Li Ruigang. Reporter has encountered Li Ruigang reporting work in the SARFT building for two times, and saw him walking alone, without anyone closely following him.
"There are more limits in the system. People with capabilities are definitely unwilling to walk on the shore; instead, they will jump into the sea to fight." In the eyes of Wei Wenkai, Jason Kong is open-minded and forward-looking, and is suitable for marketized environment. "His resignation is beneficial to the human resource marketization and further resource allocation in China's media industry.
N possibilities of life
- Q&A of Jason Kong
China Radio, Film & TV: Did you already have any life plan when you graduated from university?
Jason Kong: No special plan. Many things occur naturally.
China Radio, Film & TV: Why did you resign when having a smooth and rising official career?
Jason Kong: The higher I was in the system, the more difficult my resignation would make my leaders. If I had stayed there for another two or three years, I would have been unable to leave (laugh).
China Radio, Film & TV: Did you resign for higher income?
Jason Kong: Income is certainly very important for me, but compared with income, I pay more attention to the platform, the people I work with and the things I do.
China Radio, Film & TV: If you hadn't met Li Ruigang, would you still have shifted to investment?
Jason Kong: Li is a reformist, so I thought he could make some achievements. If I hadn't meet Li Ruigang, I might not have resigned firmly, but I think I would still have sought for other changes.
China Radio, Film & TV: A few years ago you studied investment and EMBA courses in Peking University and Cheung Kong Graduate School of Business, so were you already prepared for marketization then?
Jason Kong: No, I was just interested in them.
China Radio, Film & TV: I heard that you are particularly willing to give employees high income, aren't you?
Jason Kong: Working with me is more tiring, but the income can be significantly improved. If I increase everyone's income and make them live happier, they can get balanced no matter how hard the work is.
China Radio, Film & TV: Seen from the present condition, each of your choices has been right, so where is such a good intuition from?
Jason Kong: Although all my steps before were right, the current step is still unknown (laughter).
It is related to my character. Maybe I'm more sensitive. As for me, right choices depend on whether you can do a good job, whether you have strong communication skills, and whether people around you accept you and are willing to help you. These are very critical.
China Radio, Film & TV: Have you ever thought of failure?
Jason Kong: There are many unknown things in life. We should never automatically regard what we get today or what we haven't got yet as our own. In my opinion, process is more important than result. Something seemingly important to others may not be that important to us, and many gains were actually not expected before. As for me, the life actively selected by me is a happy life.
China Radio, Film & TV: Is your future direction founding your own company?
Jason Kong: I haven't thought about this.
China Radio, Film & TV: One bungee jumping is enough. Why did you play it for several times?
Jason Kong: I just wanted to see if I would be afraid the next time.
China Radio, Film & TV: Resigning from public office is a big matter. How did you convince your parents?
Jason Kong: They don't interfere with my decision. I told them it was not a big deal, and I could at least make a living by setting up an advertising company.
China Radio, Film & TV: Are you a good husband and good father?
Jason Kong: You should ask my wife (laugh). From the viewpoint of family, she has sacrificed a lot.