E-Commerce Conference Held in Beijing, with GHS
E-commerce CEO Amy Yu Invited to Share Innovative Ideas
On May 29, 2017, China (Beijing) E-commerce Conference 2017 co-hosted by Beijing Municipal Commission of Commerce and Beijing Daily Newspaper Group was officially opened at the China National Convention Center in Beijing. Relevant government departments and domestic and foreign e-commerce industry elites such as the Ministry of Commerce, CECA, Alibaba, Jingdong and Mobike, emerging entrepreneurs, and industry experts participated in the conference, and discussed about hot issues such as shared service, retail transformation and technology drive. Amy Yu, CEO of GHS E-commerce, China's first mobile video e-commerce platform, was invited to attend the conference. In her speech titled "How Does Video Shopping Match with the Internet" at the "New Energy - Star of the Future" Summit, she shared the innovative business models in the field of mobile video shopping.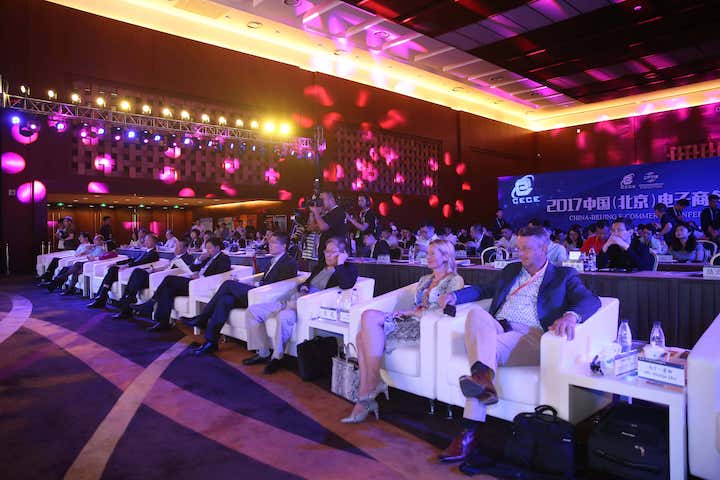 China (Beijing) E-commerce Conference 2017 held in Beijing
How does mobile video shopping match with the Internet? GHS puts forward a solution
It is known that, as a leading full-media retail platform in China, GHS is positioned as Global Home Supplies Sale Mall. Through the GHS nationwide channel, excellent mobile video shopping APP and smart TVs, and exquisite shopping magazines, GHS strictly selects high-quality home supplies throughout the world for hundreds of millions of families, and provides an ideal life experience.
"Mobile video shopping is by no means simply adding video with shopping," said Amy Yu. "The most important thing is how to match mobile video shopping with the Internet. It should be a kind of videoized and scenarized video experience economy that can be shared." She talked about the innovative business models of GHS in her speech titled "How Does Video Shopping Match with the Internet".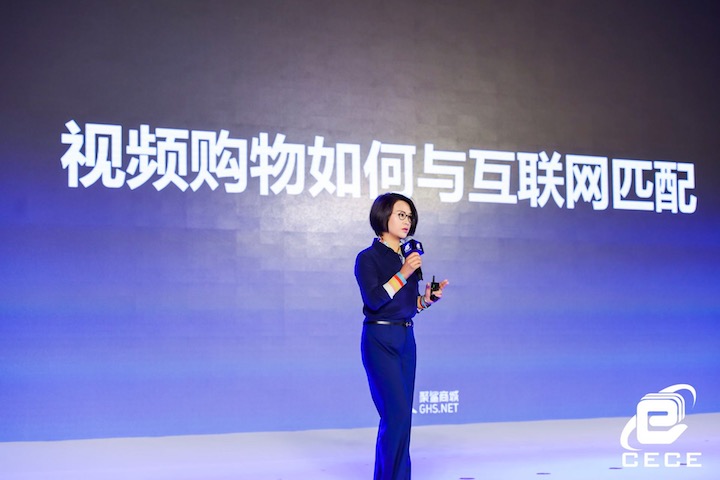 GHS E-commerce CEO Amy Yu gave a speech titled "How Does Video Shopping Match the Internet"
Different from many mobile e-businesses, GHS takes video as the core, and uses vertical video, plain video and micro video to display the true properties of commodities. With all the core information of a commodity concentrated in a video of only a few seconds or 60 minutes, consumers can get to know the commodity in a clear and visual manner.
The strict selection mechanism with buyer system as the center is the core competitiveness of GHS. GHS buyers carefully select high-quality commodities throughout the world, and consumers only need to know about the commodities via video, and make decisions by selecting the best. "In an era of surplus consumer products, selection has become a kind of cost and even burden rather than benefit. Our buyers will stand in the consumers' position and select commodities meeting their needs, so as to help them make better selections, save more time, and create time value for them," said Amy Yu in her speech.
Being a shark in attack, GHS creates a new shark IP
Since the brand upgrade, GHS has selected shark as its new image, and vigorously promoted and built the shark IP. In fact, many consumers are initially attracted by the purple color and shark icon of GHS, and the use of elements and brand IP forms GHS' brand differentiation. "Brand IP building is a long-term process. By adhering to the use of purple elements and shark image, we have increasingly impressed consumers. It can be said that consumers have largely formed the cognition that purple shark is equal to GHS," said Amy Yu.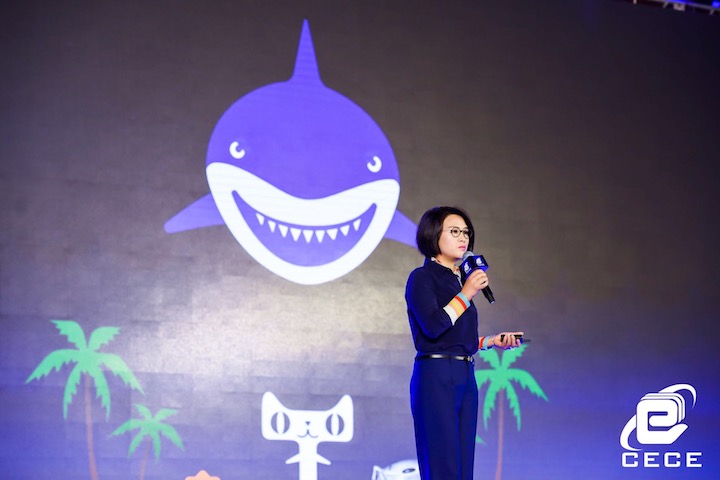 GHS E-commerce CEO Amy Yu interpreted the "shark spirit" in her speech
As for the reason why shark is selected as the brand image, Amy Yu explained, "First, it has cartilage all over its body, so it has strong environmental adaptability and overall coordination capability; second, it changes 30,000 teeth in its lifetime, thus guaranteeing strong core competitiveness; third, it doesn't have a swim bladder, so it has to keep swimming in its lifetime to avoid sinking. What we want to learn are precisely the capability of constantly adapting to the environment, the capability of persistently learning to maintain the core competitiveness, and the spirit of continuous exploring. Only by doing so can an excellent enterprise keep developing."
The interview with GHS E-commerce CEO Amy Yu
Since its debut in 2011, China (Beijing) E-commerce Conference has become one of the most influential annual events in the e-commerce field in China. In addition to the main forum, there are another five parallel sessions, and over 100 guests have been invited to share their experience from five perspectives, i.e. new energy, new service, new ecology, new technology and new business. As a leading full-media retail platform in China, GHS was favored and invited by the conference. It is reported that GHS APP was officially released last June, and became a cutting-edge product in the mobile e-commerce field in less than a year. According to Analysys' monitoring data, in 2017, GHS APP ranked TOP 100 in tier 1 field - mobile shopping, and TOP 50 in tier 2 field - integrated e-business.