Signing Ceremony for Internship and Practice Base of GHS and PKU School of Government held in Beijing
PKU School of Government Establishes Practice Base in GHS
On March 24, 2017, the signing ceremony for scholarship program was held in Beijing by domestic full-media retail platform GHS and Peking University School of Government. School of Government of PKU will establish in GHS the Internship and Practice Base for Students of PKU School of Government. Meanwhile, GHS will set up the GHS Social Practice Scholarship of PKU School of Government to provide internship and practice scholarship for the students.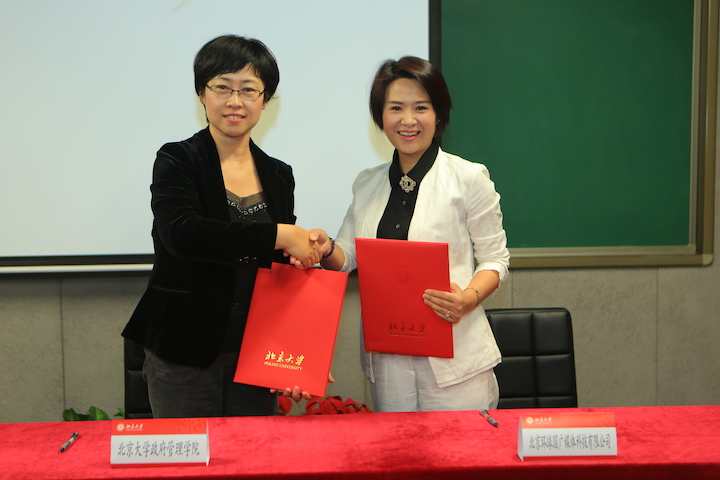 The signing ceremony for scholarship program of GHS and PKU School of Government was held in Beijing
Li Haiyan, Party Secretary of Peking University School of Government said during the activity that, the most important and central purpose of building world-class universities and disciplines is talent cultivation. She expressed her hope that the cooperation with GHS could provide students with better learning and practice opportunities and inspire them during learning and practice, thus achieving resource complementation and double win of the school and the company.
Amy Yu, CEO of Beijing Read TV Technology Co., Ltd., the e-commerce platform of GHS said that, Peking University School of Government aimed at building itself into a world-class school, while GHS was committed to becoming a world-renowned media retail group, and they came together due to their common global vision; GHS hoped to, by providing students with more opportunities to participate in social practice and enterprise construction management, help PKU School of Government cultivate hardheaded applied talents and help students improve the sense of responsibility for work and build basic professionalism. Meanwhile, Amy Yu pointed out that the TV shopping industry bore the imprint of trust crisis, but enterprises represented by GHS had been building integrity in the development process; she expected to rebuild the society's cognition of TV shopping, and attract more excellent talents to the TV shopping industry.
According to the cooperation agreement reached by both parties, they will conduct in-depth cooperation in practice activities and talent transportation in the future. GHS will open some internship positions for the students of PKU School of Government, and provide the GHS Social Practice Scholarship for the students' social practice.
It is known that GHS is a member of China Radio International, with TV shopping and e-commerce as the main retail business, and carries out wholesale trade, manufacturing, cultural media and other business relying on its subsidiaries, able to provide students with diversified internship and practice opportunities. In its development process, GHS values talent cultivation and selection, and always pays attention to education activities. Previously, GHS cooperated with multiple universities such as School of Journalism and Communication, Peking University and Communication University of China to carry out student internship and practice activities.