Annual Conference of China's TV Shopping Industry Held in Beijing
GHS Ranking the Top in the Industry in Two Growth Rates
Beijing Feb 17, 2017 ——Under the guidance of State Administration of Press, Publication, Radio, Film and Television and Ministry of Commerce of the People's Republic of China, the 2016 annual conference of China's TV shopping industry themed "Quick Action, Universal Quality" was hosted by China Home Shopping Alliance and held by Global Home Shopping (GHS) in Beijing. Staff from more than 30 domestic TV shopping channels, various TV shopping partners and experts came to Beijing to communicate their up-to-date ideas in respect of the media retail industry with each other. At the awards ceremony held in the afternoon, GHS received many rewards including the gold award for national channel special program, award for excellent visual packaging, and award for innovative marketing.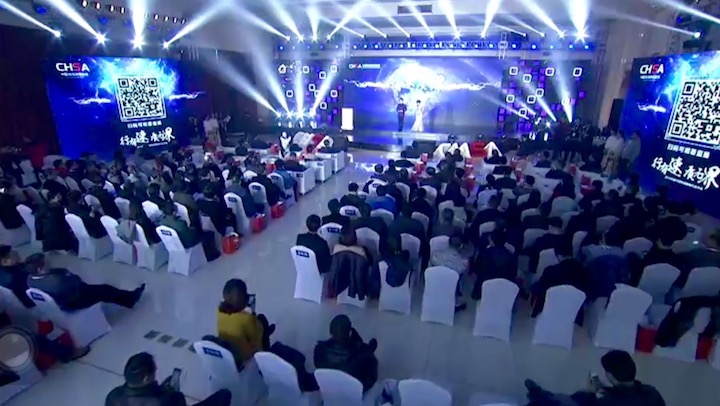 The 2016 annual conference of China's TV shopping industry was held in Beijing. Leading figures in the industry gathered together.
Industrial reformer GHS ranking the top in the industry in enterprise and APP growth rates
In countries like America and South Korea, TV shopping is not only a key media retail industry competitive with B2C, but also a national strategic core that plays an important role in stimulating consumption market and improving industrial chains. On the contrary, the value of China's counterpart hasn't been tapped yet, and the industry is also facing big challenges. As e-commerce and the real economy continuously converges, many TV shopping companies have sought to transform and change by way of product upgrading and media convergence.
In the last year, GHS took the lead in entering the intelligent large screen TV shopping sector and expanded its channels through media convergence, forming an omnimedia layout. Currently, GHS has obtained more than 70% of the market share in intelligent large screen sector and established a closed-loop eco-system for mobile video shopping platforms. GHS App ranked the 2nd in TV shopping industry in the list of 2016 active e-commerce APPs, according to data issued by Analysys.
As a rising young company in TV shopping industry, it cost GHS only less than 4 years to develop into a level that may cost others a decade, and its enterprise and APP growth rates have ranked top in the industry. When asked about how could people reform the industry and make breakthroughs in the future, Jason Kong, the chairman of GHS said, "To solve bottlenecks and to transform and upgrade, it's necessary for the industry to transform from non-mainstream to mainstream. And to do so, the industry should focus on the market and practice under the guidance of innovation."
Jason Kong, the chairman of GHS, is giving a speech themed "From Non-mainstream to Mainstream: China's Media Retail Industry's Road to Rise"
GHS received many awards at the 2016 industrial awards ceremony
In the afternoon of Feb 17, the 2016 annual conference of China's TV shopping industry was held and gave out 13 categories of awards including awards for national channel special program, excellent visual packaging, innovative marketing, excellent vendor and excellent logistics carriers.
GHS (rightmost) received the gold award for national channel special program
These awards were assessed in the last November. Members of China Home Shopping Alliance submitted more than 400 pieces of materials applying for the awards and over 100 of them were awarded. Finally, GHS was given the award for national channel special program, award for visual packaging and other awards, becoming the biggest winner in the ceremony. When interviewed, a member of the assessment committee of 2016 China's TV shopping industry awards said, "We found that GHS has tried many things in brand differentiation and program innovation according to the materials submitted by them. In a way, they've set a benchmark for the industry."
Meanwhile, the 2016 China's TV Shopping Industry White Paper and the Investigation Report on TV Shopping Consumers were issued in the ceremony. The former stated that in 2016, the industry's total sales accounted for less than 1% in total retail sales of consumer goods, demonstrating the industry still has a long way to go compared with mature overseas markets. The latter showed that consumers' recognition on TV shopping has changed and most of them think TV shopping is close to life, affordable and reliable. This change has greatly helped the industry rebuild its image and confidence.