GHS and CUC Co-Launch "X Training Camp" Practice Teaching Activity
On the morning of July 13, 2015, the "X Training Camp" short semester opening ceremony and summer practice teaching activity co-held by GHS and the Advertising School of CUC was officially launched in GHS' training room in Armco Times Square. About 60 students from CUC participated in this activity.
It is reported that this half-month-long "X Training Camp" teaching activity took "video shopping" as the core, and was supplemented by teaching, guidance, observation, proposal and other teaching methods, aiming to combine academic resources of the university and practice resources of the enterprise and provide a high-quality platform for students to enhance their practical ability of marketing and communications. "On the background of today's mobile Internet, TV shopping has not only been a shopping pattern on TV, but also gradually become a cross-media, multi-terminal, high-integration full-media retail layout with TV media platform as the center. As one of the representatives of domestic TV shopping industry, GHS has dual attributes of media and retail. We have both the gene of video shopping and rich experience in B2C operation," said the head of GHS "X Training Camp" teaching activity.
Prior to this, Alimama also worked with the Advertising School of CUC on a short semester program themed with "big data". The main reason why the university cooperated with GHS this year was that it valued GHS' experience in converting media traffic to cash, which would be ofgreat guiding significance for media students' learning practice.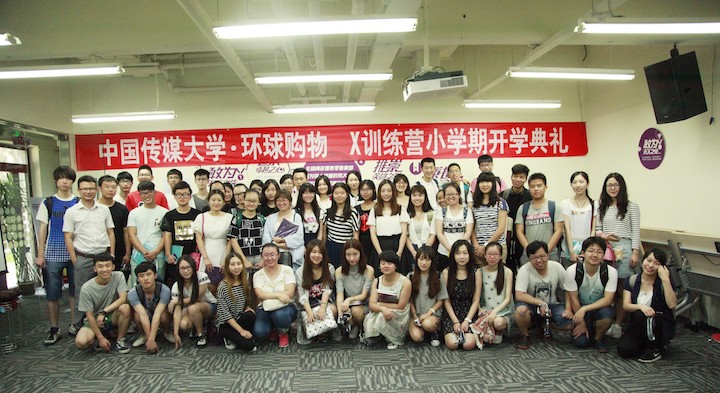 "X Training Camp" short semester opening ceremony was officially launched on July 13, 2015
CUC students participating in "X Training Camp" teaching activity visited GHS' program studio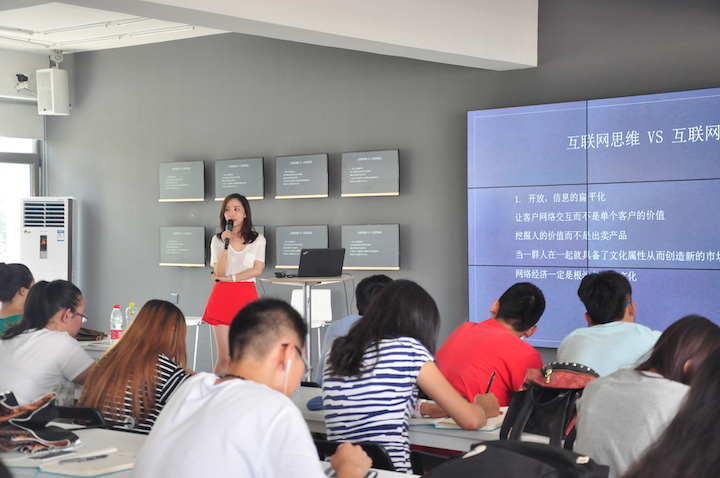 Tang Sijing gave a lesson titled "Video + E-commerce = ?"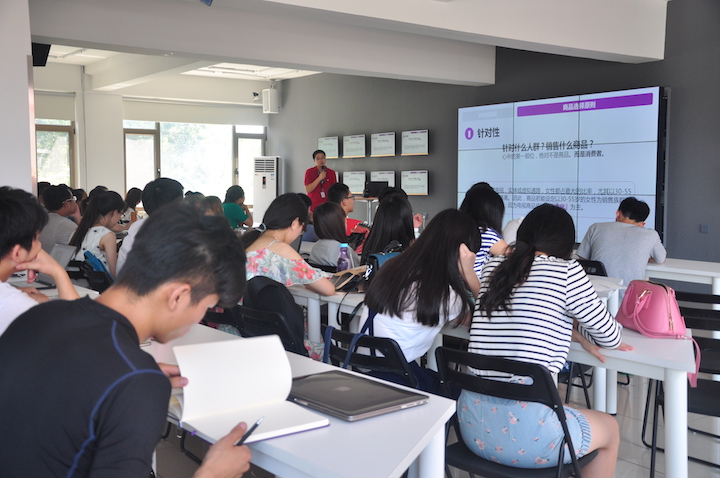 Gu Bai gave a lesson titled "Video Shopping: Selection of Commodities and Extraction of Selling Points"
During the "X Training Camp" teaching activity, GHS set up five excellent lessons on video shopping from the perspectives of commodity development, creative planning, implementation, and comprehensive integration of marketing and communication, and delivered all-around professional interpretation of video shopping. In the afternoon of July 13, Tang Sijing and Gu Bai brought excellent lessons to the students.
It is also learned that, in addition to its business elites, GHS also invited Yu Lei, Chinese consultant and judge of International Effie Awards, and Zhang Ran, co-founder and marketing director of Rage Comic to serve as instructors of "X Training Camp" and give lessons to the students.
Meanwhile, to make the students fully integrate theoretical knowledge with practical resources, GHS particularly set up practical activities during "X Training Camp" teaching activity, and organized the students to complete an overall planning covering commodity selection, creativity, script, implementation of detailed plans, and marketing and promotion plans. "Students participating in the practice activities can select commodities in which they are interested from the commodities we provide as their target and make an overall planning thereof. Of course, we will also provide them with as much resources as possible, including video shooting learning opportunities and tutoring by instructors," said the head of GHS "X Training Camp" teaching activity.
In fact, as a young and responsible enterprise, GHS has been paying much attention to the education field, such as initiating the "HIT FM Global Music Classroom" public welfare activity to help young students realize their dreams. At the beginning of this year, GHS became a strategic partner of the School of Journalism and Communication, Peking University, and the two sides intend to co-build a student extracurricular practice base to achieve resource complementation and double win.